Whether you're a tourist for a day, a vacationer for a week or a local resident eager to indulge in some history and culture, Buffalo has plenty on the agenda for you to enjoy.
And, if you're planning a budget-friendly excursion around Buffalo, you won't be disappointed with the many free things on offer in the city. After all, saving money on your activities means more money to treat yourself to a nice dinner or a plush hotel upgrade.
We've put together a list of some of our favorite free things to do in Buffalo.
Tour City Hall
If you're thinking a tour of a municipal building sounds boring, think again. A walking tour of the Buffalo City Hall with a docent from Preservation Buffalo Niagara is anything but blase.
The city hall building itself is an Art Deco masterpiece. In addition the architecture, tour guests also have the opportunity to enjoy the gorgeous murals and stained glass.
The tour shares insider facts and includes visits to the lobby, Common Council Chambers and Mayor's Office. In addition, if you have enough fortitude to make the trek, you can enjoy a breathtaking view of Buffalo from the city hall building's 25+ story-high observation deck.
Tours are generally available at noon on weekdays and reservations aren't necessary unless you're requesting a private group tour (available for groups of 15 or more).
Free Fridays at Albright-Knox
Normally a trip to this breathtaking collection of art will cost you a bit. However, on the first Friday of the month, you can enjoy free admission to parts of the Albright-Knox Gallery.
While you're strolling look for the works of Pablo Picasso, Frida Kahlo and more. Now is a great time to see the gallery's collections, because it will be closed and its collections moved to different spaces for renovations beginning in 2020.
Niagara Falls
Niagara Falls, if you haven't heard of it, is just a small water feature outside Buffalo.
That's obviously factious, as the Falls are arguably the nation's first vacation destination, and any list of free things to do in Buffalo would be remiss if it didn't include the region's most-famed tourist attraction. While many of the activities related to the Falls are not free, just soaking in their beauty and majesty is.
To take your enjoyment of the Falls a step further (with a small price tag attached), plan a boat tour, enjoy the view, cocktail in hand, from the observation lounge at the Giacomo Hotel, or visit the Cave of the Winds.
Visit the Ellicott Square Building
Once the largest office building in the world, the Ellicott Square Building is far more than just cubicles. Stepping into its interior court and admiring the highly-wrought and ornamental construction can take you back to the turn of the century, which is when the building originally took shape.
You could spend an entire day admiring the beauty and grandeur of the ornate architecture and detail work. Just don't try to count the floor tiles – with 23 million pieces of Italian marble included in the design, you'd be there quite a while.
Various special events are also held at the location, including pop-up shops, seasonal artists' markets and a handful of convenient lunch and shopping options.
Explore the Buffalo Erie Public Library
Two blocks of books. The Buffalo Erie Public Library's Central branch is a bibliophile's dream. Along with the Mark Twain Room, another one of the unique collections at the library is a vast stock of WWI posters and artifacts (on display in the second floor collections gallery).
The library also hosts free events for children, families and adults, including story times, crafting, historical exhibits and educational seminars.
Window shop in Elmwood Village
It's easy to while away an entire day in Elmwood Village. And, you can do it without spending a dime, although with the number of boutiques and restaurants, we can't say you won't be tempted to spend a little.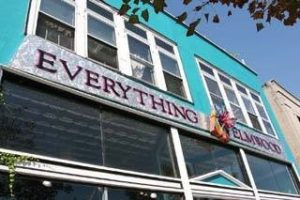 Visiting the community on weekends during the spring and summer means you'll have the opportunity to partake in its farmers market and get a true taste of the neighborhood's culture.
In addition to shopping and dining, the neighborhood is also adjacent to Delaware Park, one of the city's most charming and inviting green spaces.
You can definitely make it around Buffalo and fill up your memory banks without putting a strain on your wallet. As you explore the area, you'll see why there's so much about Buffalo to enjoy, experience and love.
Check out Ellicott Hotels portfolio including the new Aloft Buffalo Downtown.