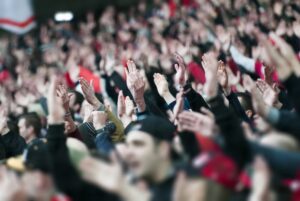 It can be intimidating to be a newcomer to Buffalo Bills fandom, but even those with no interest in football should take time to experience what Buffalo is like on game day. Bills fans can be rowdy, but they are accepting and work to evoke the City of Good Neighbors branding that sits upon Buffalo's shoulders. Still, if you'd like to have some basic understanding of what it means to be a member of the Bills Mafia before attending a game, check out our Buffalo Bills fan page resources guide below!
Basic Bills Culture
Being a Bills fan is more than just putting on a logo-bearing hat and braving the cold. True fans understand the culture built throughout generations of cheering for the team. Whether you're attending your first Bills game or have already filled out your season ticket renewal for next year, our guide will break down what it truly means to be a full-fledged member of the Bills Mafia.
Tailgating
If you thought that Sundays were all about the game, you'd be sorely mistaken. Bills fans set up early on game days to break out the grills, drinks, and football well before the game starts. These events can get a bit rowdy, and the team has tried to tamper down some of the more extreme traditions — such as slamming fans through tables and the occasional setting of fires — but they're a key part of the total experience. Bills fans are extremely friendly, so you shouldn't be fearful of tailgating with the family. Since drinking is heavily involved, though, it may be wise to at least engage in the buddy system.
Many fans will be more than happy to offer you food from their grill and drinks from their cooler, but you can easily set up your own station with a just few tailgating classics:
Hot dogs and sausages (preferably from Sahlen's)
Buns (preferably from Costanzo's)
Condiments (like Bison dip, Weber's mustard, and Frank's hot sauce
Chicken wings (of course)
Coffee
Beer (Labatt Blue is popular, but a local brew from Community Beer Works or Thin Man Brewery shows off your refined taste)
Water
Remember to pace yourself. While the fun starts with tailgating, you want to make it to and through the game, too.
Playoff Drought
Being a Bills fan isn't always easy. Yes, they set a record for making the Super Bowl four years in a row in the '90s, but they were never able to clinch that final victory. While the past couple of seasons have given fans new reasons to believe again, the playoff drought that stretched from 1999 to 2017 is not only the longest in NFL history, but it's also the longest in professional sports history.
Ending the drought helped show off what makes Bills fans the best in the business. The Bills needed the Cincinnati Bengals, oft-strangers with success themselves, to win their game to give Buffalo an avenue to the playoffs. When the Bengals won, the Bills and their fans flooded then-Bengals QB Andy Dalton's charity with thousands of dollars of donations.
The 2020 and 2021 Seasons
As the decade changed from the '10s to the '20s, good fortune started to come Buffalo's way. As we mentioned, the Bills broke their playoff drought in 2017 and returned to the post-season in 2019. The 2020 season allowed the Bills to take another step forward.
With third-year quarterback, Josh Allen at the helm and newly acquired received Stefon Diggs breaking team records left and right, the Bills' passing attack led the team to go undefeated against teams in their division. Their AFC East division title was their first since 1995, and they didn't stop there.
For the first time since the 1993-94 season, the Bills reached the AFC Championship game and found themselves one win away from playing in the Super Bowl. Their loss to the Chiefs in the game was unfortunate but helped demonstrate that the Bills are back.
The "Shout" Song
If you've been to any event in Buffalo, you've likely heard the "Shout" song. You'd be forgiven if you thought it was the Isley Brothers' classic rendition made popular at wedding venues across the nation, but true Buffalo fans will always prefer the Scott Kemper version with Bills-appropriate lyrics.
This song is an iconic part of Bills fandom, so make sure to sing along when the song blasts on repeat while you're tailgating. Make sure to save your voice, though, as you'll want to be a part of the magic that occurs during the game, with all 72,000 fans in the stadium singing along.
Best Buffalo Bills Bars in Buffalo
Attending a Bills game is always the preferred way to cheer on the team. However, if the Bills are away or if you can't make it to the stadium, heading to a Bills backer bar in Buffalo can unite fans just the same.
So, try heading to some of our favorite Bills bars in the city:
Bada Bing
The essential Bills bar with drink specials and a full menu filled with classic bar fare and vintage Italian.
W XYZ Bar @ 500 Pearl
Satisfy your thirst with beer, wine, or signature cocktails crafted by mixmasters; you can go with a crowd and everyone will find something that they can enjoy.
Duff's Famous Wings
It is widely regarded as having the best chicken wings in a city known for its wings.
Pearl Street Grill & Brewery
Situated in the heart of Buffalo, their menu and craft beer selections go, perhaps, unmatched on this list.
Rec Room
Unlike other bars on this list, they take reservations, but you may not need them as their Bills Block Party can easily fit 1,000 fans.
Ellicott Development is Here for Bills Fans New and Old
Whether you're looking to stay in Buffalo overnight or make it your new home, Ellicott Development is here for you. With a wide range of apartments and hotels in and around Buffalo, NY, our team can make sure that your Buffalo home is perfect for your needs.
To see our available options, contact us today!
Image Source: Paparacy / Shutterstock