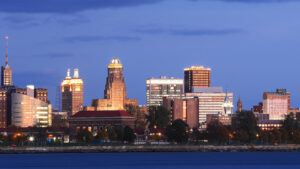 Whether you recently moved to the area or have lived in Buffalo for years, you deserve to explore the area's rich history.
To experience Buffalo fully, you need to do more than live in the area and enjoy the fantastic restaurant, shopping, and bar scene. You need to discover the town's rich and enthralling history.
Get to Know The Buffalo History Museum
Conveniently located, the Buffalo History Museum is the first stop when you want to experience Buffalo's rich history. The museum looks at the area's history, from sports and lighthouses to trains and weaving equipment, with gorgeous displays and detailed explanations.
The Buffalo History Museum sits in a historic building with Doric columns that make you feel like you're stepping back in time as soon as you arrive. You can wander the museum independently, and you can access the research museum by appointment.
Women's History: A Google Map
In 2019, an intern, Amber Levais, at the Buffalo History Museum began a project to map the locations of landmark events in Buffalo history that included women. This Google map highlights various activities and women that contributed to the area's history. These women's activities and achievements include:
Education
Politics
The arts
Charities
Business
And many others!
The map offers more than 100 locations for you to experience Buffalo with an eye on women's history and contributions.
Black-Owned Businesses in 20th Century Buffalo: A Google Map
Throughout the 20th Century, African-Americans and black-owned businesses helped shape Buffalo and enrich its history. The Buffalo History Museum created a Google map to help you experience Buffalo and learn more about these businesses.
The museum used three primary resources to create this map, including:
The Negro Motorist Green Books, 1938-1966
The Negro Directory of the Niagara Frontier, 1958
Metro Buffalo's Black Co-op Pages, 1986
After exploring these locations, you can view the Green Books on the New York Public Library website. The other two resources are available in the museum's research library, which you can visit by appointment.
Churches in Buffalo, 1901: A Google Map
As with most American cities, Buffalo has a rich religious history, with many churches that date back to the city's founding. With this Google map, you can experience Buffalo churches from a historical viewpoint.
In 1901, the Charity Organization Society of Buffalo drew a map that featured all the churches of the day, and it was color-coded by denomination. At the Buffalo History Museum, an intern, Peter Malia, recreated the map in Google, so you can explore the Buffalo churches that existed at the dawn of the 20th Century.
Drinking Map of Buffalo, 1828 to the Present: A Google Map
Buffalo and Erie County have an extensive history of manufacturing alcoholic beverages and serving them, and the Buffalo History Museum has created a map for you to explore this history.
The map includes:
Seven wineries
15 cider houses
60 distilleries
60 malt houses
90 breweries
You can use this specialized Google map to experience Buffalo in a new way. When you set out to explore, you can start with the manufacturers noted to still be in business today.
Buffalo, NY – A Livable City with a Deep History
Buffalo, NY, brings its residents the best of both worlds. You enjoy all the modern conveniences of the big city with the rich history that comes from a deep commitment to the community.
You can live in a historic building with all the modern amenities or opt for a newly built home or apartment. You can experience Buffalo's rich history right outside your doors wherever you choose to live in the area.
Renting in Buffalo, NY
At Ellicott Development, we are proud to offer the best apartments in the Buffalo area. Our rental apartments feature all the amenities you want and need to thrive, from historic buildings to modern apartments. Here's a look at some of our available rentals.
You can get started looking for your new home today!
Schedule a Tour Today!
When you're ready to start touring available apartments and find your next home, our team is prepared to help. Contact us to schedule a tour today!