A skiing vacation can be quite a refreshing and invigorating experience, but only if you know how to prepare for it properly. Choosing the right holiday destination can also make or break your experience.
If you are wondering where to go for your next skiing vacation, ski trips in Buffalo, NY, are worth considering. Buffalo, NY, is an exciting destination with fantastic resorts that will make your skiing vacation unforgettable. This guide explores everything you need to know about planning the perfect skiing vacation in Buffalo, NY.
Ski Vacations Near Buffalo, NY
There are plenty of great resorts nearby Buffalo, New York, where you can enjoy some fresh powder every day. Holiday Valley Resort and Holimont Ski Club are excellent choices for a skiing vacation.
Holiday Valley
Holiday Valley Resort is located in the charming town of Ellicottville, NY. This resort features 59 trails, 11 lifts, and a snow tubing park. Holiday Valley is also home to the region's only aerial ski lift, which offers stunning views of the surrounding area. It is an ideal place for both adults and children. Some kid-friendly activities in Holiday Valley include secret trails, snow forts, and an exceptional ski school. Additionally, the mountain coaster at the resort is a must-do for thrill seekers.
Regarding accommodation, Holiday Valley Resort offers a range of options to suit all budgets. The Inn at Holiday Valley is an ideal choice for luxurious accommodation. It also offers many affordable condo rentals. These include the Tamarack Club, which features one to three-bedroom units. If you don't like to go offline during vacation, wi-fi access is available throughout the resort.
Holimont Ski Club
If you are longing for a premium skiing experience, Holimont Ski Club is worth checking out. This private ski club is located just outside Ellicottville, NY, and offers members exclusive access to 135 acres of terrain. The ski club features 52 trails and a snowboarding park. In addition to the incredible skiing, Holimont Ski Club also has an après-ski scene that is not to be missed. The club's Main Lodge features a cozy fireplace, live music, and a wide selection of refreshments.
Moreover, the area has many hotels that cater to your accommodation needs. Some notable ones near Holimont Ski Club include the White Plan Lodge, Wingate by Wyndham Ellicottville, and the Tamarack Club. You could also rent a condo at the Spruce Lodge & Cabins or the Ellicottville Vacation Rentals.
Within Hours of Buffalo
The best part is that you don't have to go far from Buffalo to find great skiing. Several ski resorts are located within a few hours' drive of the city. Some popular ski destinations near Buffalo include Holiday Mountain Ski Area and Kissing Bridge Snow Sports Area.
Greek Peak Mountain Resort
You might want to explore lesser-known holiday gems, including the Greek Peak Mountain Resort. It is just two hours from Buffalo, offering visitors a unique skiing experience. It is perfect for ziplining, sledding, and cross-country skiing.
Labrador Mountain
Labrador Mountain may also be worth visiting if you want a more intimate skiing experience. This resort is located in Truxton, NY, and offers 22 trails and four lifts.
Bristol Mountain
To wrap it up, you can pass by Bristol Mountain Ski Resort, just a short drive from Rochester. Bristol Mountain Ski Resort features 34 trails and a terrain park.
Ski Vacation Accommodations Near Buffalo
When going on a vacation, you may worry about the accommodation you will get, especially when traveling to an unfamiliar place. However, when it comes to Buffalo, there is no need to worry as the city offers a wide range of accommodation options to suit all budgets. Ellicott Development manages various hotels in the area that are bound to provide value for your money. These include Comfort Inn & Suites, Giacomo, and The Mosey Hotel.
Visit Buffalo, NY, for the Ultimate Skiing Vacation
Skiing in Buffalo, NY, is the quintessential winter vacation for those looking to enjoy some time on the slopes. The area offers a variety of skiing experiences, from beginner to advanced, and there is something for everyone to enjoy.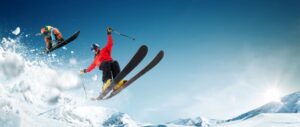 In your search for a place to stay during your ski vacation, look no further than Ellicott Development. We offer beautiful and comfortable condos that will make your holiday more fulfilling. Our goal is to make your ski trips in Buffalo, NY, worthwhile. Contact us today to book your perfect skiing vacation.
Image Source: Shutterstock/ Artur Didyk / gorillaimages