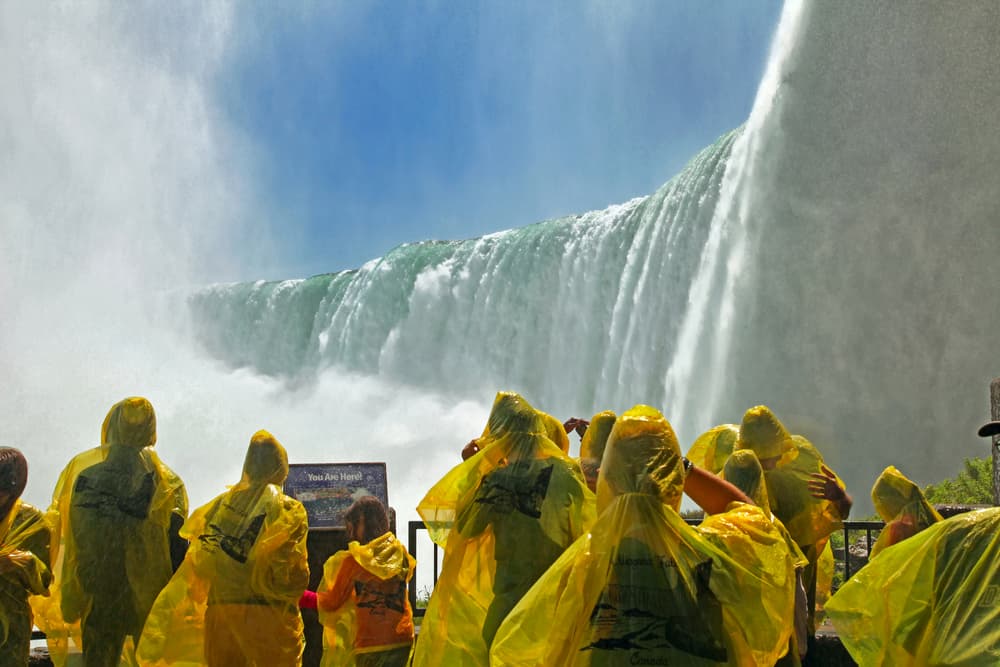 When you travel, one of the best ways to make sure you enjoy the experience is to do a little pre-planning. You do not have to plan every second of every day, but a little preparation ahead of time can make all the difference between an exciting, yet relaxing trip, and a slightly chaotic experience. This guide was designed to help you plan a memorable trip to Niagara Falls.
Find Niagara Falls Tour Companies
To make the most of your trip to Niagara Falls, consider choosing one of these Niagara Falls tour companies for an excellent experience.
Over The Falls Tours
Over The Falls offers a variety of tours, including a Winter Wonderland tour, group tours, and private sightseeing tours. You can choose from the American side, the Canadian side, or both for some of your tours, for a truly unique experience.
Gray Line Niagara Falls
If you are looking for daytime or nighttime tours, Gray Line Niagara Falls gives you many guided tour options. From the Maid in America Tour, to the Evening Illumination Tour, there is something for everyone.
Niagara Tour Company
Whether you are looking for boat tours, walking tours, or winery tours, Niagara Tour Company offers a little bit of everything for your pleasure. You can pick the perfect way to tour Niagara Falls.
Find Niagara Falls Hotels
Aside from finding great Niagara Falls tour companies to make sure your Niagara Falls experience is pleasant, one of the most important things you can do when traveling is to find great accommodations.
The Giacomo Hotel
A stunning choice for those who appreciate unique architecture, The Giacomo Hotel is located in a building that fuses art deco and Mayan revival motifs. Located right in Niagara Falls, you will have both convenience of location and the luxury of a boutique hotel.
Fairfield Inn & Suites
For a contemporary hotel, Fairfield Inn & Suites in Amherst has all the modern features you expect, with the excellent service you deserve. Whether you want to swim a few laps in the heated pool or stream your favorite shows in your room with the free wifi, you'll be able to relax at the end of each day when you stay at the Fairfield Inn & Suites.
Staybridge Suites Buffalo-Amherst
The Staybridge Suites is conveniently located near Niagara Falls and downtown Buffalo, NY. As an extended-stay hotel, you can take advantage of the fully equipped kitchen or complimentary laundry facilities, as well as enjoy the hotel breakfast buffet and evening social receptions.
Aloft Hotel Downtown Buffalo
Enjoy downtown Buffalo and easy access to local restaurants, or try Patrick's Rooftop Bar when you stay at Aloft Hotel. You'll also find a bowling alley, pool, sauna, and more ways to wind down and relax after a day of touring Niagara or Buffalo.
The Mosey Hotel Buffalo Williamsville
If you are looking for convenient access to Buffalo, but also want to experience the history and the small-town feel of a welcoming village, The Mosey Hotel is perfectly located. The village and the hotel, are known for their warm hospitality, and you'll find interesting restaurants, unique local shops, and remarkable parks.
Plan Your Niagara Falls Trip with Ellicott Development
If you are planning a trip to Niagara Falls, there is no better way to plan than with the experts. Ellicott Development has a long history in the area, and no matter why you are visiting the area, they can help you find the perfect hotel for a small family trip, a large family reunion, corporate events, or weddings. Contact Ellicott Development today to learn more about the variety of excellent properties in Buffalo, NY, and beyond.
Image Source: Igor Sh / Shutterstock