As a Buffalonian, you are probably familiar with Ellicott Development properties and projects in Buffalo; we have been responsible for many of the development projects in our city in past years. If you're thinking of buying a home or property in Buffalo, staying up-to-date with our current projects is crucial. This will give you a brief overview of our recent projects in Buffalo, NY – keep reading to learn more!
Commercial Development Projects in Buffalo
Elmwood Crossing: The Pardee
This is a five-story mixed-use building consisting of a ground-level parking lot and commercial spaces on the first floor, designed to accommodate restaurants or other retail stores.
The second-floor features class A office spaces measuring around 7,007 square feet. The third through to fifth floors comprise 22 apartments featuring a mixture of studio, one-bedroom, and two-bedroom units with patios. If you are lucky enough to get a corner suite, you will have a balcony that lets you enjoy the scenic view of Elmwood Village.
Elmwood Crossing: Williams Tower on Bryant & Hodge
Williams Towers is a mixed-used building sited on approximately 8 acres within Elmwood Crossing. With the rising demand for new offices due to Western New York's work culture, the building is conveniently located with a Qualified Opportunity Zone which offers incentives for those who invest in the area.
The building comprises 172,200 SF of commercial space, 47,900 SF of Floorplate, and 24,400 SF of attached wing space. The building also features an ample parking garage, rooftop decks with scenic views of the city, a fitness center, and a common area lounge.
Elmwood Crossing: Professional Office
Previously known as the Alfiero Center, the building is being redeveloped to accommodate new offices. Under its new name, Claire DeCue Collaborative Centre consists of 12,000 SF of office floor plates for all types of businesses.
The building is conveniently located along Elmwood Ave, one of the main streets close to all amenities in Buffalo. Generally, it is of great use for occupants who commute by bike and is a five-minute walk from the bus stop.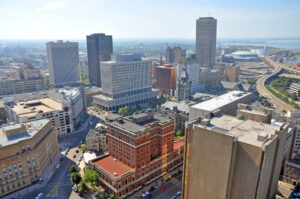 Residential Development Projects in Buffalo
270 Michigan Ave.
Located in the Humboldt Park neighborhood, this building is the best place to get affordable and convenient housing. The building features a mixture of studio, one-bedroom, and two-bedroom units with patios.
The housing units in this property are designed for families, professionals, and students who want to live in the city and be close to shopping, entertainment, and major roads.
The development also has a modern lobby and apartment lobbies with an elevator. There is also a rooftop community room and an onsite clubroom for residents who want to relax and socialize with other people living in the building.
Center & 8th St, Lewiston
This property features three 2-story mixed-use buildings with commercial and residential units. The first two units harbor commercial spaces comprising restaurants, retail stores, and other commercial establishments. The third unit will feature over ten 2-bedroomed apartments with modern interior designs.
There is also a parking lot comprising 189 spaces, with 108 reserved for residents and the rest for commercial use. The property also features a clubhouse, fitness center, and laundry room for the convenience of residents in this close-knit community.
878 & 880 Elmwood Avenue, Buffalo, NY
The building consists of ground-floor retail spaces and two upper floors with apartments. The ground floor retail spaces are designed for independent and large-scale retailers to ensure maximum convenience for residents.
The upper floors feature 42 units with studios, one-bedroom, and two-bedroom units. The development also features an onsite parking lot and a rooftop terrace with stunning city views.
Commercial & Residential Development in Buffalo, NY
While Buffalo is currently undergoing an ambitious transformation, we can expect even more spectacular projects in the future as the city continues being revamped to its glory days. At Ellicott Development, we believe in developing properties through sustainable and innovative ways to meet the demands of all our clients. To learn more about our properties or any activities within the Buffalo area, visit our website or contact us to book a tour.
Image Source: Wangkun Jia / Shutterstock