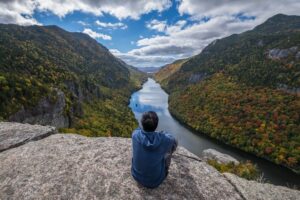 Outdoor adventure has never been more accessible than in the thriving metropolis of Buffalo, NY, and the stunning surrounding rural areas. The city has one of the unique, dazzling terrains in Western New York. There are many fun spots to explore, with miles of waterfront parks alongside Lake Erie and a wild, lovely expanse of forested land. Whether you are looking for national parks to hike or water sports to try, this outdoor adventure guide will help you get started.
The Niagara Falls Region
Our outdoor adventure guide for Western New York begins with a trip down to Niagara Falls, 21 miles from Buffalo. This place combines natural beauty with countless entertainment options, including hotels and restaurants.
Go for a hike on Devil's Hole State Park, or proceed on your own to capture stunning photos of one of North America's seven natural wonders.
If you want more than just a look at Niagara Falls, ensure you book an adventure excursion or rent kayaks to explore the Buffalo River in Canalside. Guided white water tours are also available on the Niagara River for more adrenaline-pumping fun.
Parks and Hiking
New York has some of the best state and local parks and hiking trails in the country. Check out these favorite spots to get outside and active. Lift your heart rate and taste what Western New York has to offer by experiencing her great natural resources. Check out these parks for scenic and serene hiking:
Devil's Hole State Park. One of Buffalo's hidden gems for nature lovers, Devil's Hole State Park provides spectacular hiking and views. Fish from the Niagra River and take in some of New York's best nature.
Walton Woods Park. If you are looking for an escape from city life, head out to Walton Woods Park in Cheektowaga. This park has stunning nature trails for hiking, skiing, jogging, and bird watching. Walton Woods also has a dog park where you can take your four-legged best friend for a run.
Cheektowaga Historic Rails-to-Trails. This 5.1-mile trail stretches from Depew Village through more than 500 acres of enthralling parklands and wetlands along an old railroad corridor. Excellent for leisurely walks and runs, Cheektowaga Historic Rails-to-Trails offers several bridges over creeks, large shade trees, and plenty of wildlife.
Town of Lockport Nature Trail. The trail provides access to natural landscapes and a convenient way for families to explore nature together. After visiting this alluring destination, make sure you pick up some souvenirs from one of Lockport's many unique stores.
Niagara River Recreation Trail. It offers numerous outdoor activities every season, from swimming in summer to ice fishing in winter. This 15-mile trail stretches from ancient Fort Erie and ends at Fort George. It passes through some of Western New York's most picturesque small towns like Lewiston and Youngstown.
Water Bikes of Buffalo & Going Cycling in Buffalo
Boating and cycling are other fun activities in our outdoor adventure guide. In your search for exceptional experiences, head over to Water Bikes of Buffalo and rent a stand-up paddleboard or kayak. You also receive guided tours that take you to historic sites in downtown Buffalo while you cruise around on your boat.
Buffalo also offers an excellent bicycle infrastructure. Enjoy cycling through different neighborhoods and getting a first-hand feel for Buffalo. Guided cycling tours usually last about two hours. For specific tours or time slots, ensure you book early. Also, New York's Empire State Bike Trail connecting Buffalo and New York City provides 750 miles of pristine bike trails for biking enthusiasts to explore.
Ellicott Development Has a Place for You!
Buffalo, NY, is a beautiful and exciting place to live. Whether you're looking for an active city feel or a laid-back, small-town vibe, there is a home that's perfect for you in Buffalo, NY. Are you looking to relocate to a place where you will delight in fantastic food, affordable living, historic sites, and recreational activities? Ellicott Development can help you find a home that suits your lifestyle in Buffalo, NY. Check out our listings page to find your next apartment today.
Image Source; Jam Norasett / Shutterstock