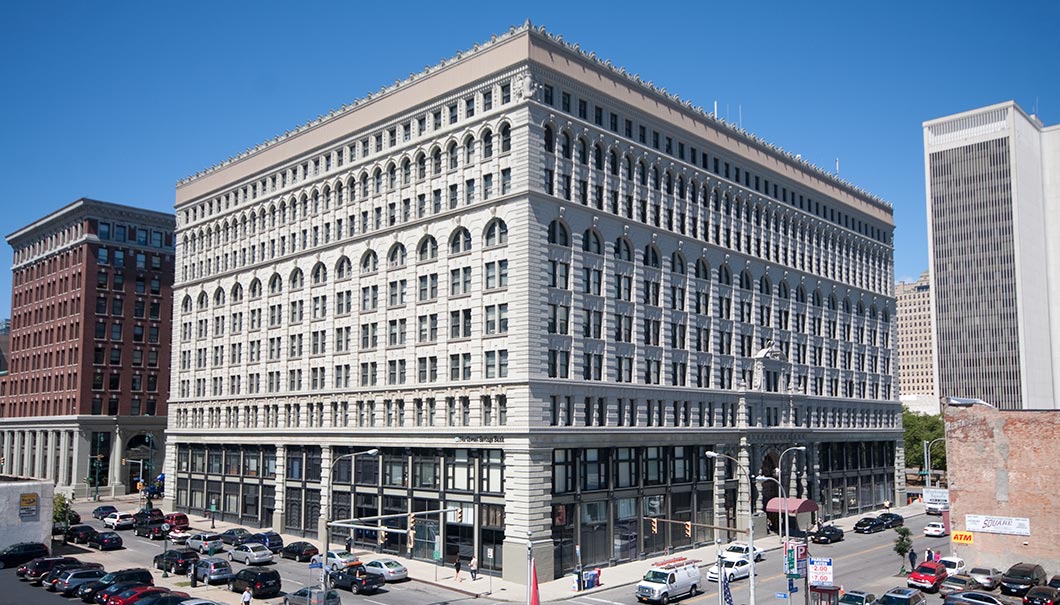 The Ellicott Square Building is a 10-story Italian Renaissance-style office building, built in 1896 at a cost of $3.5 million dollars. It was the largest office building in the world at the time of completion and features 299,000 square feet of professional office space. The majestic lobby and entryways feature mosaic and rare marble tiles, arranged to produce a rich and artistic color effect. Rich marble flooring is carried throughout the common areas of the building. The building's most extravagant feature is the expansive Central Court which is highlighted by a glass roof and two grand staircases. In the center of the floor is a disc that displays the points of the compass surrounded by a chain, symbolizing the strength of business organization in the United States.
Through the years, the building has undergone extensive improvements that have preserved the original architecture while adding many modern enhancements for energy efficiency, convenience, and safety.
Located in the heart of Downtown Buffalo within easy walking distance of Canalside, First Niagara Center, Coca-Cola Field and M&T Plaza, the Ellicott Square Building comprises the city block between Main Street and Washington Street.
Property Specs
Renovate-to-suit offices from 200 to 30,000 square feet on one level

24 hour security and accessibility

Within one mile of the I-190, Rt 5, and Rt 33

Offers scenic panoramic views of Main Street, Coca-Cola Field and Erie Community College City Campus
Amenities include: Charlie the Butcher's Express, Run City at Ellicott Square Fitness, Ellicott Square Trading Company convenience store, Finishing Touches by Caitlin Krumm, The Grove, Rosalie the Healthy Chef, Griddle and Greens – located on first floor
Gross rental rates include heat, daily janitorial services, routine maintenance, & building securityTenant Services
Building owned and managed locally
Parking
Adjacent indoor and outdoor parking; competitively priced
PDF Flyer
Location Map