If relaxation is on your weekend agenda, consider winding down with a glass of wine. The Buffalo-Niagara area has a few well-kept secrets, and the area's numerous wineries are one of them.
Whether you're planning a romantic getaway, a couples' outing or a girls' weekend, Buffalo offers a wide variety of wine experiences, ranging from curated and chauffeured events to casual DIY tasting options. Check out some of our favorites here:
Niagara Wine Trail
The Niagara Wine Trail encompasses 22 different wineries throughout the region. The casual grouping of vineyards gives you the opportunity to take the trip at your own pace and to choose the locations and tasting experiences that most appeal to you.
Negotiate a deal with a friend who's willing to serve as a designated driver, or contact one of the area's many limousine and car services to make it easy and worry-free for everyone to enjoy and partake.
You can pay tasting fees individually at each location or can purchase a winery passport. For a reasonable price (typically around $40), you can enjoy tastings and discounts at many of the wineries along the trail.
Niagara-on-the-Lake
Niagara-on-the-Lake is either about an hour away or an entire country away, depending on which side of the border you're coming from. Either way, it's a wonderful option for a fun day spent enjoying the region's delicious and interesting food and wine options.
On the Canada side of the border, Niagara-on-the-Lake boasts more than 20 wineries and is also a world-renowned wine and culinary destination. This region is home to several pioneers of the local food movement, so sampling innovative dining options along with your wine is just good sense.
As with the Niagara Wine Trail, you can create your own getaway geared to your needs,
interests and moods. You can participate in everything from vineyard explorations and tastings to enjoying custom-prepared charcuterie boards, touring barrel cellars and more.
The Giacomo Winery Package
The best girls' getaway weekends feel like college all over again, except in this case, you'll hopefully be switching out sugary, sweet drinks for wine choices that suit your more refined adult palate.
Gather yourself and your five best girlfriends to enjoy a retreat and reunion at The Giacomo Hotel; we promise it'll be filled with wine, food and fun.
After checking in to a luxurious suite, you'll be whisked away for a four-hour wine tour and a series of tastings, including Schulze Vineyards & Winery, Freedom Run Winery and Long Cliff Vineyard & Winery.
Enjoy your evening, and possibly consider pairing it with a dinner at one of the area's nearby gourmet dining options (Savor, part of the Culinary Institute, is a popular choice). Or, take advantage of your suite to order in and enjoy time catching up.
The following day, you can either shop til you drop, enjoy the view of the Falls, or use your $15 voucher to play a few hands or pull a few levers at Seneca Niagara Casino.
Chateau Buffalo
If DIY is more of your wine weekend style, stop by Chateau Buffalo and create the wine tasting and charcuterie pairings of your dreams.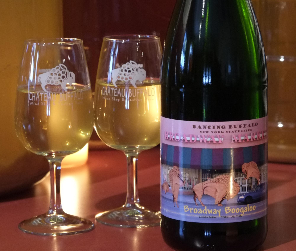 Chateau Buffalo is a winery and cidery that houses both a tasting room and a storefront for anything and everything you could want to accompany your wine consumption. Regional produce, locally made cheeses, pickles, seasonings and more are all part of the plunder you can procure during a visit to this epicure's delight of a store.
The shop is also well-known for its commitment to local produce – more than 95% of its in-store offerings come from farms in New York.
Visit the tasting room to sample the options currently on rotation, then let their passionate and knowledgeable staff help you put together everything you need for an at-home tasting with friends (or with yourself and the latest new Netflix series; no judgment here!).
Ice House Winery
If you're looking for something completely different, take a visit to the Ice House Winery. This venue specializes in producing ice wine from frozen grapes. The sweet wine contains a lower water content because of the condition of the grapes when they're harvested and fermented.
Touring the winery is fun and family-friendly. However, your underage tagalongs may feel rightfully upset that they'll miss out on one of the most fun parts of the trip – ice wine slushies that you can purchase onsite.
The tastings, put on by the knowledgeable owners and staff, include samplings of the slushies, along with traditional ice wines and ice wine cocktails.
Amore Di Vino Chocolate Decadent Wine Tour
Enjoy the sweet life with an afternoon of chocolate and wine pairing indulgence. Amore di Vino offers a variety of different themed tours throughout the area, but, for some delicious, mouthwatering, delightful reason, this one remains the company's most requested option.
The tour includes chauffeured transportation to five wineries, snacks during the excursion, concierge services from a wine trail specialist, and a end-of-the-day tasting table filled with chocolate decadence.
If you're trying to decide what to do on an upcoming weekend, we highly recommend booking yourself into a Buffalo hotel, then treating yourself to a round of wine tasting, photo taking, memory making excursions. Cheers!