Article via Buffalo Rising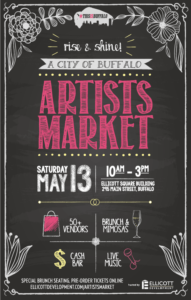 Saturday brunch lovers, get ready to partake in an exciting event that has become a real favorite for those who like to eat, shop and be entertained along the way. On Saturday, May 13, the majestic Ellicott Square Building will once again play host to A City of Buffalo Artists Market: Spring Edition. This is the fourth year that this event series has taken place, and each year it gets busier and busier, with more offerings and more visitors.

The day starts with a brunch served by the The Grove Juice Truck and Bon Bon's Gluten Free Bakery. Mimosas will be available at the cash bar. After brunch, or during brunch, guests are welcome to browse the Artisan Market with over 50 local vendors. Entertainment includes live music by Keith James.
It's so exciting to see this historic building being used for these types of purposes. The Ellicott Square Building is the ideal setting for a market for a number of reasons. The grand lobby is the perfect place for the community to congregate. The building is also conveniently located along the Metro Rail route.
The First Saturday market features:
Ticketed brunch sessions will be offered

throughout the duration of the market

A private open bar and tables seated in groups of four will be available with preorder

Half hour sessions begin at 11:30am, with the last session seating at 1:30pm

Ticket price includes brunch and fruit buffet with private seating and open bar on the second floor of the Ellicott Square Building

Tickets are first come, first serve, will be $15, and are available for pre-purchase here
A City of Buffalo Artists Market: Spring Edition
Saturday, May 13, 2017
10 AM – 3 PM
Ellicott Square Building | 295 Main Street | Buffalo, New York 14203
More details here.