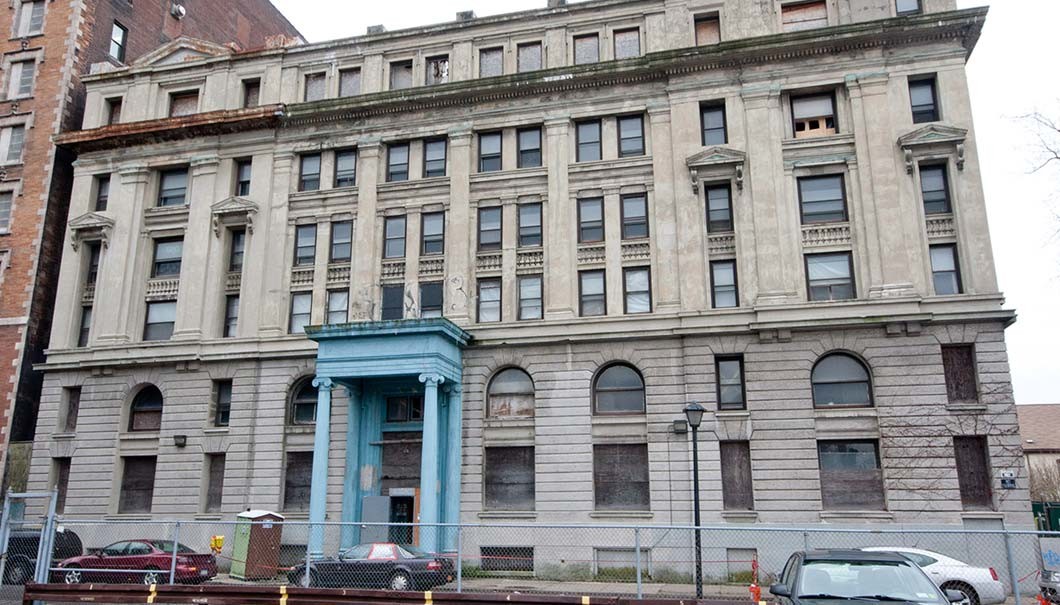 NOW LEASING – Call 716.854.0060 for more info!
The Graystone, originally known as the Berkeley Apartments, is a six-story Italian Renaissance building constructed between 1894 and 1897. Listed on the National Register of Historic Places, the building is architecturally significant as one of the earliest examples of reinforced concrete technology in the construction of large-scale multi-story buildings in the United States.
As originally conceived, plans called for a luxury apartment building that would extend to the West side of Delaware Avenue, which at the time was Buffalo's most prestigious residential street. In 1895, with only the west wing of the building completed, the original owner began to encounter financial difficulties. In 1896, the project changed hands and the new owner simplified the plans with an objective to complete the building quickly and cost effectively. When completed in late 1897, the Berkeley Apartments opened as an apartment hotel for short-term tenants, with 63 apartment units ranging from one to six rooms in size. The hotel hosted important visitors to the Pan-Am Exposition in the early 1900's.
The building became vacant in the early 1990's after decades of decline, and in 2002, Ellicott Development Company purchased The Graystone. EDC's original plans to redevelop the property into a luxury apartment building were halted in late 2003 after a large section of the roof collapsed during interior demolition work. For many years, the redevelopment effort had been on hold as a result of the roof collapse, coupled with a weak residential rental market in downtown Buffalo.
Ellicott Development has recently finalized plans to redevelop the property into 42 market-rate apartment units in one- and two-bedroom configurations, along with one commercial space on the ground floor. With interior clean out well underway, finished units are expected to be available for occupancy summer 2013.
As mentioned, the building is listed on the National Register for Historic Places. EDC is working with the State Historic Preservation Office and the National Park Service to ensure that the redevelopment effort conforms to the Secretary of the Interior's Standard for the Treatment of Historic Properties. Original interior features including scagliola wall panels, floors of mosaic tile and marble chips, and stairs of decorative cast and wrought iron will be restored to their original appearance.
The redevelopment of the Graystone will offer updated, contemporary designed and equipped units, all at affordable rental rates which will include heat. With desirable, attractive living spaces and a close proximity to the many cultural and entertainment destinations of downtown, the resurgence of this once great building is sure to be a success.
See completed apartment information
CONSTRUCTION PHOTOS AUGUST 2013
CONSTRUCTION PHOTOS JUNE 2013
CONSTRUCTION PHOTOS MAY 2013
CONSTRUCTION PHOTOS MARCH 2013
PRE-CONSTRUCTION PHOTOS
| | |
| --- | --- |
| Address: | 24 S. Johnson Park |
| City: | Buffalo |
| State: | NY |
| ZIP: | 14202 |
| MLS #: | (716)854-0060 |
Contact Us About This Property