FOR IMMEDIATE RELEASE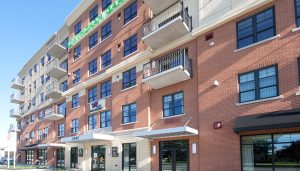 Buffalo, NY (April 7, 2015) – Wyndham Garden Buffalo Williamsville today announced it has been named Hotel of the Year for 2014 by the Wyndham Hotels and Resorts® brand, one of the highest honors in the hotel chain's portfolio.
To be eligible for the prestigious award, a Wyndham Hotels and Resorts property must have demonstrated superior execution in 2014 in each of the following categories: high-quality accommodations, exceptional guest satisfaction and positive operating performance.
Wyndham Garden Buffalo Williamsville was named Hotel of the Year for 2014 by Wyndham Hotels and Resorts, a distinction honoring the hotel's excellence in quality and performance, at Wyndham Hotel Group's 2015 Global Conference.
Joe Hannon, President of Ellicott Development, Kevin Verrall Vice President of Hotels at Ellicott Development, and Hanna Hoffman Director of Sales accepted the award on behalf of the hotel at Wyndham Hotel Group's recent Global Conference in Las Vegas, Nevada.

"Wyndham Garden Buffalo Williamsville epitomizes the hospitality we stand for, consistently offering guests the high-quality experience and value that is expected of hotels in our global portfolio while maintaining strong performance and operating results, " said Duane Elledge, president, Wyndham Hotels and Resorts. "I congratulate the whole team, as this recognition reflects a major commitment to quality from the entire staff, each of whom has a measurable impact on the success of each stay."
About Wyndham Hotels and Resorts
Part of Wyndham Hotel Group, Wyndham Hotels and Resorts, LLC, offers upscale hotel and resort accommodations at more than 190 properties throughout the United States, Canada, Mexico, Central and South America, the Caribbean, Europe, the Middle East and China. Most Wyndham® hotels are either franchised by Wyndham Hotels and Resorts, LLC or managed by Wyndham Hotel Management, Inc. with the exception of certain hotels which are franchised, managed or owned by an affiliate. Additional information and reservations for all Wyndham hotels are available by visiting www.wyndham.com. Travelers have the opportunity to earn and redeem points through Wyndham Rewards®, the brand's guest loyalty program, which can be joined for free at www.wyndhamrewards.com.
Wyndham Hotel Group is the world's largest hotel company based on number of hotels, encompassing approximately 7,650 hotels and 661,000 rooms in 70 countries. Additional information is available at www.wyndhamworldwide.com. For more information about hotel franchising opportunities visit www.whgdevelopment.com.
# # #
CONTACT
Patrice Verrall
General Manager
Wyndham Garden Buffalo Williamsville
Phone: 716-276-9600
E-mail: pverrall@ellicotthospitality.com
EDITORS: A high-resolution version of the above image may be downloaded by clicking here. Additional photos and logos can be downloaded from the Wyndham Worldwide Media Center, available here. For more information about Wyndham Worldwide Corporation and its businesses, go to www.wyndhamworldwide.com.