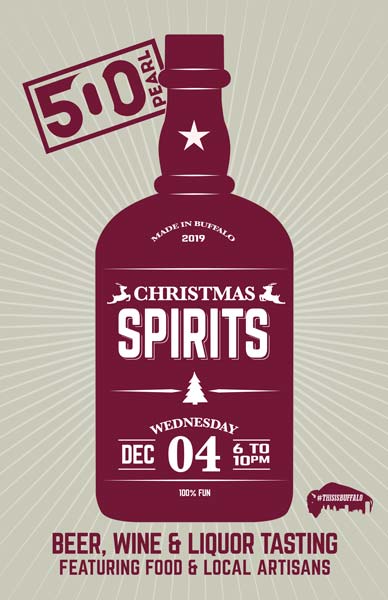 There is no charge for a table, but you are required to provide us with a Tasting Permit by November 22nd.
Notifications on acceptance will be emailed by November 4th.
More on tasting permits here:
https://aca.licensecenter.ny.gov/aca/default.aspx
Who? #thisisbuffalo Christmas Spirits – A City of Buffalo Event
What? Enjoy local wine, beer, and spirits tastings, starting off the Holiday Season with Christmas Spirits featuring 20 vendors
Where? Forbes Theater located inside 500 Pearl Downtown Buffalo
When? Wednesday, December 4th 2019 6pm-10pm
Why? Allow Buffalonians to sip on wine, spirits, hops – Exploring beverages for their 2019 Holiday drink menus
More Details: We will provide you with one or two tables per request and your required to provide sampling of one product during this time. We will also provide music, Santa, a gift for everyone and a to-go build you're own hot coco bar for guests to enjoy. Cash bar will be open featuring 3 holiday cocktails. Each attendee will receive a card for tasting notes, a flyer with all vendor locations and your preferred place to purchase your product.
In addition to the ticketed event: Will have Live at Aloft music, cash bar, cookie decorating and 10 local vendors in the w xyz bar and lounge. This section will be open to the public.
This event is for: Groups of friends, family, co-workers and individuals looking for a unique holiday happy hour experience.