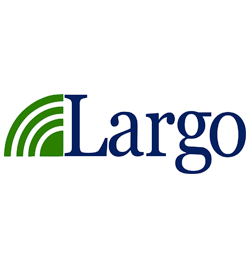 Spotlight:
Largo Capital
A City of Buffalo Artists Market SponsorWebsite:
Largo Capital
Gary Coscia, President & CEO
Q&A
About our business:
The Largo Group of Companies is a Buffalo-based mortgage banking firm that provides commercial real estate financing for property owners throughout the United States and Canada. Largo structures, closes and services commercial mortgages for acquisitions, refinances and redevelopment projects.
When you started, what you do?
I have been in the mortgage banking industry for nearly 40 years, beginning my career with Marine Midland Bank (HSBC US) in 1977. In 1989, I founded Largo. As President and CEO of Largo, I oversee all operations of the largest private mortgage banking firm in the area.
Location, # of years in business
Largo has been in business since 1989 and is headquartered in Getzville, NY with additional offices in Toronto, Albany, Sarasota and Manhattan. In addition to its Getzville location, Largo recently opened an office in downtown Buffalo in the Ellicott Square building.
Why we decided to sponsor the Artists Market?
Largo acknowledges Ellicott Development's investment in Buffalo which has fueled the renaissance that is currently taking place. We will continue to support Ellicott and the local community in any way that we can.
What charitable or philanthropic work does your business do?
Largo actively supports local organizations and charities. Most recently, Largo invested in Western New York's next generation of leaders by supporting BISON Children's Scholarship Fund. Largo recognizes the importance of empowering children in need with quality education. The young people in our community are the bright future of Buffalo.
Company's greatest accomplishment so far?
Largo helped facilitate one of the largest retail REIT transactions closed in the United States. Largo was selected by Developers Diversified Realty Corporation (DDR) to help facilitate a $6.2 billion transaction with Inland Retail Real Estate Trust and a joint venture with TIAA-CREF. The transaction consisted of 300 properties located throughout the nation. Largo was able to streamline the entire transaction and help all parties involved track the flow of information with ease, leading to a successful and timely closing.
What is the best part about working and being located in Buffalo?
Largo recently opened an office in the Ellicott Square building and is excited to be a part of the resurgence taking place in downtown Buffalo. What makes Buffalo exceptional is the people and the sense of pride they have for the region – they are proud to be Buffalonians. Buffalo is large enough to be a big city but is still small enough to feel like a small town. The employees at Largo appreciate the benefits of the area from skiing in the winter, boating in the summer to cheering on our professional sports teams. Largo is a hometown business that is proud to be part of Buffalo's continued progress. Buffalo is only getting better!
Showing Our Love, Sharing Their Story