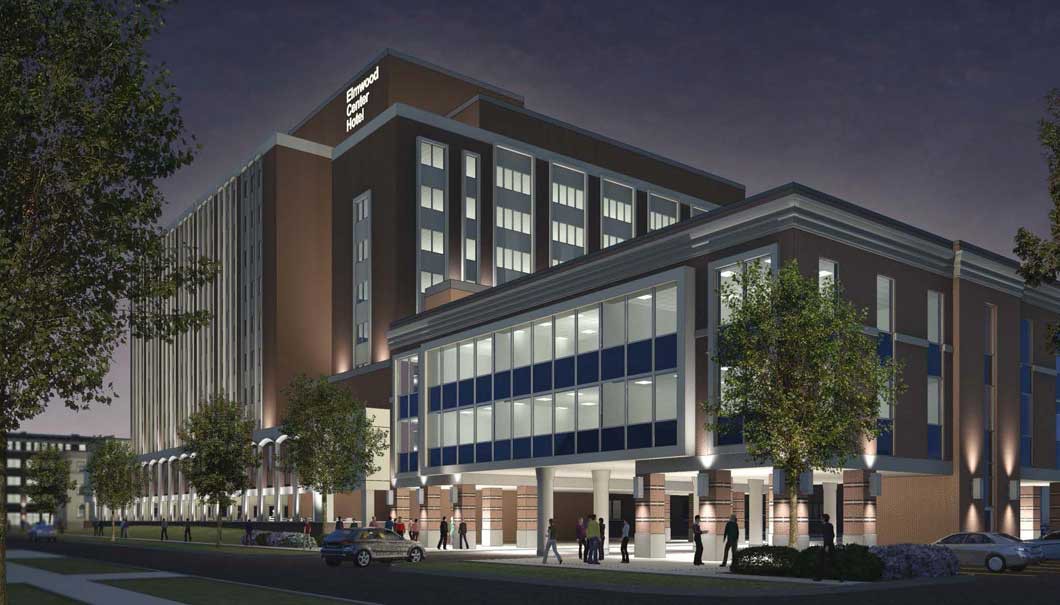 Updated March 02, 2016
Ellicott Development Company presents "Elmwood Center", the redevelopment of Kaleida's Women and Children's Hospital campus. Located in the heart of the thriving Elmwood Avenue district, our project is the ideal retrofit of 650,000 square feet of existing infrastructure that will offer those complimentary services necessary to a growing, dense and vibrant residential, commercial and retail community.
The icing on the cake is our ability to incorporate it all in a non-intrusive and expeditious manner. Unlike other more grandiose plans, our plan is absent of any large scale demolition. We will maintain all of the existing buildings on campus and repurpose them with uses that will blend in and add to the neighborhood.
The Elmwood strip neighborhood community, with its blend of high- and middle-income residents, is defined by the fabric of its shopping district composed primarily of small and local retail, restaurant and office businesses. The Elmwood Center will pair perfectly with that ambiance. Elmwood Center does not seek to change the character of the neighborhood but rather to add to its solid infrastructure and unique nature.
Elmwood Center will increase the housing stock in the area with new middle market and high-end apartments, provide a new service for existing residents and bring new people into the area with a boutique hotel and restaurant/banquet facility, provide apartments for seniors so they can downsize and stay in the area they have grown to love, and add needed amenities such as a day care, elementary charter school, grocery store, new small boutique retail along Elmwood and Utica, community meeting space, and a performing arts center.
Having worked with Elmwood Village before on multiple projects our presentation was purposely void of any invasive exterior cosmetic or structural changes to the current building elevations as we know there are many differing opinions on architectural design. We want and plan to have many discussions with the neighborhood and any other interested parties with a stake in this redevelopment to determine how best to change the look of the buildings and remove the current institutional feel. Presented below are some other concepts we have contemplated and we have more that can start those discussions. We have built into our projections the financial ability to make significant changes to the exteriors of the buildings but feel a collective effort is necessary with the community and Elmwood Village to advance and finalize those changes.
We have further developed our plan for development along Utica Street. Once again we are open to further discussions here surrounding the placement of new buildings, parking and green space. As originally presented, we have a mix of boutique retail, grocery, office, and residential plans along the street, but now have all of these uses incorporated into new buildings with all surface parking tucked behind, out of view from the street. We want more community input as to how we incorporate all these elements collectively to improve the look and feel of Utica Street. We have also budgeted for and plan to incorporate a green landscaped walkway with benches and a community playground area from Utica through to Bryant in areas to be determined along with the addition of public areas along Bryant with significant landscaping and other aesthetic treatments.
---
We Value Your Input
You wanted shorter construction times. You wanted more extensive façade improvements. We will make it happen and look forward to involving the community extensively in those discussions. In repurposing the existing campus infrastructure, we remain flexible in many aspects of our re-use plan, and have costs built into our financial plan to easily make those additional improvements. If the community asks, we can look to reduce the hotel size and add a condominium component. A hotel component, whether large or small does allow us to provide unique amenities not typically offered in most apartment and condo complexes (think: 24/7 surveillance, indoor pool, health & fitness center, cleaning services, room service, etc.). We realize this process will not complete until all community interests are able to meet the chosen developer and have an open dialogue on the final expectations. Your suggestions truly matter. Show your support and state your opinions by commenting, sharing, and liking. Make sure to include our interactive hashtag, #thisisbuffalo!
PDF Flyer
Powerpoint Presentation
| | |
| --- | --- |
| Address: | 219 Bryant Street |
| City: | Buffalo |
| State: | NY |
| ZIP: | 14222 |