Putting together an event is a lot of work, whether it's for business, pleasure or a mix of both. If you're an event planning perfectionist, you know you want to limit the variables that can wreak havoc and skyrocket stress levels on the day of your event.
That's where an on-site hotel comes into play. When you're able to host your event, or enjoy your time with colleagues, family or friends, at a venue with a hotel, it makes your life exponentially easier and more enjoyable.
Having everything together in one place means you can focus your energies on being fully present in the moment, rather than feeling stretched thin by trying to juggle accomodations along with everything else required to make your event successful.
How an On-Site Hotel Works for Business Meetings and Events
Whether you're planning or attending a business event, time is money. Scheduling the event at a location that includes an on-site hotel means that you're conserving both and increasing your opportunities for achieving your event goals.
Building team camaraderie
Business retreats give senior leaders a chance to fully focus on their company's strategic goals and vision, without being pulled away by competing priorities. When you host a leadership retreat at a hotel, instead of at your shared office space, you can ensure you have your team's full attention.
Being able to go directly from your meeting space to an on-site hotel room makes it easier to stay in a focused, business-oriented mode.
One executive who enjoyed a weekend of on-site collaboration with her colleague shared how the C-suite team rarely has opportunities to socialize together outside work. By bringing everything to one location – on-site hotel, meeting spaces and restaurants – the leadership team was able to connect and build their personal relationships at the same time that they forged their business plans for the upcoming year.
Making it easier for conference guests to go car-less.
While ride-sharing services have made it easier to access vehicles from your phone, it can still be inconvenient and frustrating to try navigating a new city. If you're unfamiliar with traffic patterns, for instance, staying in one place while attending a conference in another can mean stressful and rushed transfers between locations.
When you allow the option on an on-site hotel for conference guests, you make their attendance easier. You also allow them to reduce their rental car or Uber/Lyft/cab fare expenses, both of which make their employers and expense reports a little happier.
Increasing networking opportunities
When an event offers an on-site hotel, it makes it easier for attendees to connect with one another.
They're not just running into each other at conference sessions. Instead, they have the opportunity to meet and build relationships while queueing for elevators, working out in the fitness area or dining at the on-site restaurants.
When event attendees have this many opportunities to create new relationships, they'll no doubt see some opportunities for networking, mentorships and partnerships developing from their encounters.
How an On-site Hotel Can Help to Make Celebratory Occasions Unforgettable
From family reunions to sweet sixteens to weddings, if you have a group of guests involved, it means additional logistics to manage. When you're trying to pull together a dozen different options – from agendas to music to refreshments – the last thing you want to be responsible for is trying to find Aunt Becky a place to stay.
Making life easy on your guests (and yourself)
Hosting your event at a location with an on-site hotel means less stress when booking and more opportunity for family members to spend time together.
Some of the most fun opportunities for connecting with family may occur outside the event, when you have a group of cousins gathered together at the pool, or when everyone decides to join together for some post-party bowling fun.
Enjoying more wedded bliss and less wedding angst
For wedding planning in particular, a hotel is an ideal option. Why?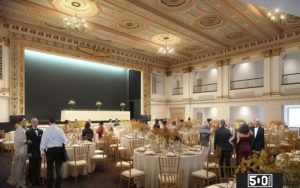 When you book with a hotel, you have a full suite of knowledgeable event professionals available on site to make life easier for you.
Need a florist? The hotel has a connection.
Looking for catering options? The hotel has it covered.
Hoping to find a place to host a bridesmaids' bunch? Your friends will love you for letting them stay onsite.
Wondering about where to block rooms? Well….I think you see where we're going with this.
How an On-Site Hotel is the One Lifestyle Amenity you Didn't Know you Needed
When you live in the same building as a hotel, you make life exponentially easier for yourself – just ask Eloise about the Plaza. 500 Pearl's apartment dwellers will enjoy the perks of hotel life and the luxuries of beautiful, sparkling new apartments. Whether they want to host a happy hour or have guests for a visit, the entire hotel complex can serve as an extension of their home.
Indulging responsibly without worrying about driving
Enjoying a few beverages (especially those sourced from right here in Buffalo) can make for an enjoyable night out. However, if you have to travel home or off-site after you imbibe, you'll definitely need to plan ahead for safe transportation.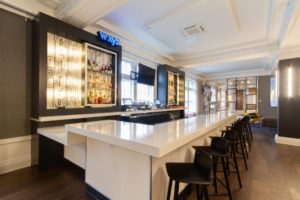 With the benefit of a hotel on-site, you can responsibly enjoy a few cocktails or beers (w xyz bar at 500 Pearl has put together a fantastic new menu) without worrying about how you or your friends will safely make it home.
Having visitors without having visitors
When family members come into town, it's not always easy to find space to accommodate them all. Squeezing in to one bathroom, stockpiling sleeping bags, figuring out how to calm down little ones – sharing a space can make a time that should be fun feel extremely stressful instead.
However, at the same time, you don't want to waste precious moments your family should be spending together, instead spending it on driving back and forth between multiple locations.
With an on-site hotel, you get the best of both worlds. You keep your personal space sacrosanct, and at the same time, your family members and/or friends are just an elevator ride away.
Staying in a fabulous hotel is a pleasure that most of us look forward to. When your stay in a hotel actually makes your life easier, that transcends enjoyment and pushes the needle over to delight, whether you're a business traveler, a blushing bride or groom, or just a happy resident.
If you're interested in learning more about what Aloft, 500 Pearl's on-site hotel can offer to make your event or excursion more enjoyable, visit and start imagining your event today & make sure to check out Ellicott Hotels portfolio including the new Aloft Buffalo Downtown.