We have some beautiful and unique parks and outdoor spaces all around Buffalo.
Vibrant recreational areas like Elmwood and Canalside; quirky juxtapositions of nature and manmade sculpture like Griffis Sculpture Park; arboreal splendor at the Buffalo and Erie County Botanical Gardens – Buffalo has a little bit of everything in the way of unique and charming outdoor areas.
However, one park will always hold a special place in our hearts.
Delaware Park tops our list for favorite Buffalo park locations, because it just has so much going for it – its location, its resources for getting in physical activity, its restful green spaces. We've put together a list of reasons why Buffalo's Delaware Park is a must-visit, and a place you'll want to come back to over and over again.
It has a rose garden.
The rose garden is such a beautiful area for wandering and soaking in the beauty of the park. This area contains 33 garden beds full of a wide variety of blooming beauties. Admire the park from the paved paths and soak in its beauty alone or with someone special.
True romantics can spend their time in the rose garden enjoying the fragrances and dreaming of their special day – it's a wonderful spot for weddings and you might see one in action if you plan a weekend garden stroll.
The Zoo is right there for your enjoyment and education.
The Buffalo Zoo is the third oldest in the nation and has a long history of entertaining locals and guests. In recent years, the zoo has turned its focus to conservation and to providing education on the importance of protecting animals and our environment.
The Buffalo Zoo is open daily, and with its convenient location in Delaware Park, it's a great place to spend part of your day exploring before enjoying a picnic lunch or a sunny afternoon outdoors.
The running trails is just right.
If you're looking for a run with great views, this is it. The trail at Delaware Park isn't long, but it's a fun run with fantastic scenery.
The 1.7 mile loop is popular among runners of all skill levels, which means it's frequently populated and generally a safe place for runners.
If you're a fan of running through city streets in addition to enjoying the park's natural beauty, you can extend your run down through Elmwood Village, and enjoy some people watching as you make your way through the city.
You can watch Shakespeare in the Park.
It's the perfect first date. Or 50th date. Or friends' night out.
Who doesn't love Shakespeare, and who doesn't love watching The Bard's immortal words performed under the stars? Shakespeare in Delaware Park is a long-running Delaware Park tradition and one you shouldn't miss.
You can watch the performance (there are some later-in-the-year holiday performances of Dickens scheduled as well), then take a winding stroll home. If you live at 722 W. Delavan, for example, you might even be able to grab a nightcap at JT's Restaurant before heading home and without going more than a block out of your way.
It's steeped in history.
How many parks do you know of that have their own audio tours? Or that have enough history to warrant an audio tour? Delaware Park does.
You can download audio tours to guide you through your explorations of the park's history. Developed by architectural legend Frederick Law Olmsted (the same developer who created New York City's Central Park), Delaware Park is in the process of continuing restorations to improve and enhance its beauty and return it to its former glory.
Even with all that yet to come, it's still pretty magnificent in its current state. In fact, the park's been honored as one of the best parks and urban green spaces in the world.
And it acknowledges the beauty of other cultures.
If you've had a busy day at the office, stop by on your way home and enjoy the Japanese Gardens. It's impossible to enter this area without emptying your mind and being replenished by its serenity.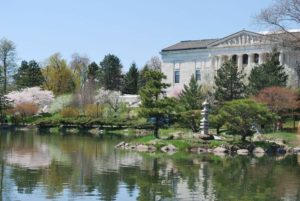 The Japanese Gardens are home to Buffalo's Cherry Blossom Festival, where you can enjoy the charm of the blossoming trees along with the beauty of the area's Japanese heritage. However, you don't have to wait until the cherry blossom season to visit. You can enjoy something unique and beautiful about the gardens during each and every season.
There's a lake.
Okay, we get it, Delaware Park. You're beautiful and romantic. You even have a lake where ardent admirers can row around and stare deeply into each others' eyes.
Hoyt Lake isn't just for lovers though. Anyone can rent boats on the lake and enjoy the fun of paddling around.
With that being said, if you are using a rowing outing as a way to impress a date, then your next step might be heading over The Terrace Restaurant where you can enjoy views of the lake and the rose garden at the same time.
There are sports options, galore.
What do you feel like playing today? Delaware Park can probably accommodate you.
Want to hit the courts? Tennis and basketball are both available. Feeling old-fashioned and nostalgic? Maybe you'd fancy a round of croquet. Have an itch to try something new? Disc golf might be a great choice.
There really are myriad options for fun at Delaware Park – we haven't even mentioned the soccer fields and the 18-hole golf course.
And, in addition to having these facilities at your disposal, the park also hosts regular special events like yoga classes, just to encourage physical activity and community building.
Imagine how fit and fantastic you'd feel, being able to walk from your apartment (905 Elmwood is just around the corner) over to the park, getting in a good, outdoor workout, then going home glowing with exertion and pride.
If you can't tell, we're a little in love with this absolute gem of a park. It's our goal to find ourselves there at least weekly, meandering along the paths and soaking in the beauty of the city. If you're looking for a place to call home in Buffalo, we think proximity to Delaware Park and its ability to enhance your quality of life is a pretty compelling reason to consider an apartment nearby.