Do it for the 'Gram.
Or for Facebook. Or for your maternity shoot. Or for engagement pictures. Or for the website for your new business.
When it comes to photos, they're worth a million words, and there are a million reasons why you might need the perfect picture – to commemorate a special day, to highlight a particular product, or just to show how perfectly photogenic your little children are.
Thankfully, here in Buffalo, there are plenty of great places to capture a photo. The right option for you might depend on a variety of factors, including your budget, the weather, the time of day and the mood you're trying to capture.
We've rounded up a few suggestions for capturing beautiful and interesting images – ones you'll be proud to hang on your fridge, post on your social profile, or mail out to adoring friends and family.
1. Buffalo and Erie County Botanical Gardens
You can't judge a book by its cover, but you can know that a photography spot might be perfect based on a first glance or two.
Such is the case with the Buffalo and Erie County Botanical Gardens. Take one look at the gorgeous, highly stylized garden buildings, and you just know you'll find some spots that are imminently snap-able within.
Don't despair if you find your photoshoot scheduled for a day that's unexpectedly cloudy or chilly. We're actually big fans of photos that include the indoor architectural details of the Gardens, as well as those that showcase fun features like the waterfall in the Asian Rainforest section.
If you're planning on taking photos at the Botanical Gardens, there are certain days that require a paid reservation, because of the increased traffic from other guests.
However, on lower traffic days, photographers can take advantage of the garden space simply by purchasing an admission. A reservation request form can be found on the Gardens' website.
2. Delaware Park.
We're not shy about our love for Delaware Park, as we consider it one of the foremost gems of the Buffalo area.
The Japanese Gardens are a wonderful site for photo opportunities, especially if you happen to schedule your shoot when the cherry blossoms are in bloom.
Some of our other favorite shots include the beautiful bridges throughout the park and anywhere that water can exert a calming influence. The view of the water from Marcy Casino, especially on a day where blue skies are being reflected, is unparalleled.
3. Forbes Theatre Ballroom.
500 Pearl's newly renovated hotel and conference center has plenty of visual appeal, and one of our favorite spots in the entire space is the Forbes Theatre ballroom.
The visual detail in this meticulously restored space is every architecture lover's dream.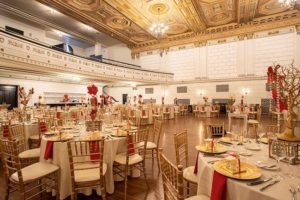 While the space isn't open to the public for photography shoots, it's definitely worth considering as a wedding or event venue just because of the 1920s glamour that will be infused into each and every event image. Just imagine the photos you'd cherish of your first dance as husband and wife on the Forbes Theatre ballroom dance floor – absolute perfection and meant to be framed.
4. Main Street Gallery.
Finding a place to do a corporate photoshoot that still has some personality can be difficult.
You want to ensure great lighting, to have a space where your team members feel comfortable expressing personality, and to have a backdrop that doesn't overwhelm the individual personalities of your team members being photographed.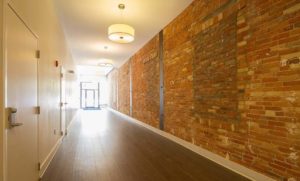 Main Street Gallery can provide all that, in spades. For a reasonable rate, you can secure the space, then have unfettered opportunities to capture the photos you need to represent your team members well and portray them in a professional manner.
5. Public Art Installations.
Thanks to the Albright-Knox Gallery's investment into public art, Buffalo is home to dozens of gorgeous outdoor installations. If you want photos that express the unique spirit and cultural identity of Buffalo, take a look at this list.
We love One Through Zero (The Ten Numbers) as a great photoshoot spot for kids. Give them a brightly colored outfit or a handful of balloons, then let the magic take over. You might be amazed at the shots you're able to capture.
Wildflowers for Buffalo is another popular favorite that can be overwhelming in sheer scope, as it stretches widely over a multi-story building, but it's also a great piece for aspiring photographers to work on capturing and composing images at a large scale.
6. Ellicott Square Building.
This one's a classic – Ellicott Square Building was a legend in its own time, as the one-time largest office building in the world. Today, it continues to evolve, while also retaining its own timeless charm.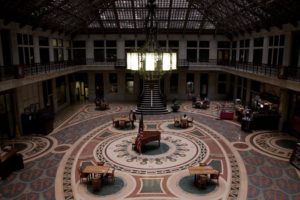 We love capturing black-and-white images in the space, as well as doing detail-oriented work, getting up close and personal with the intricate tile work or focusing on unique juxtapositions of metal and glass in the ceiling structure.
Another favorite shot? The cascading staircase. Imagine the beauty of a flowing gown gliding down those stairs – what a great spot for a bride's signature wedding photo!
Buffalo is a pretty great town, with lots of pretty, interesting and unique places to capture memories.
Next time there's an opportunity, take your camera out with you and see just how much of the city you can snap and how you can give it your own unique perspective. And, if you're planning an event where photos and memories will play an important part, contact us. We have a full list of properties and venues that might fit your needs and help you plan a day to remember.