We've all dreamed of going to a hotel on vacation, then coming home a suntan, great memories and a story of connection, true love and romance.
This story might not include the suntan, since it took place in the middle of a Buffalo winter, but it's got a little of everything else. And, it's a one of those stories that just makes you believe in fate and that things happen for a reason.
One of our Staybridge Suites guests recently shared this story about how life and circumstances conspired to make her hotel stay the most memorable one of her life. Speaking about her connection with her fiancé, Katie M. said, "The Staybridge is a HUGE part of our story and we wouldn't be where we are without it."
While (spoiler alert), her stay ended up being a happy one, it started with a terrible and unexpected disaster.
One evening shortly after Christmas, Katie arrived home from work and was greeted by a massive flood of smoke. The home she shared with her mother and stepfather had caught fire and was rendered unlivable.
After dealing with the shock of the unexpected situation, they relocated to the Staybridge Buffalo for seven months. According to Katie, the time in the hotel was tremendously difficult for her.
She hated "living every day out of a suitcase" and struggled with deep sadness following the loss of her home and all that was familiar. However, her mother and stepfather acclimated more quickly and took advantage of the conveniences of the Staybridge and the comfort it provides for long-term guests.
They decided to make the best of the bad situation, making themselves at home and even adding some decorations to their suite to make it feel more homelike during the seven months it took to make their previous residence habitable again
They also participated in the weekly dinners and happy hours offered by the hotel, enjoying good food, Staybridge hospitality and the opportunity to get to know some of the hotel's other guests.
That's where Kalen came into the picture.
Kalen's company settled him and several coworkers into the Staybridge for an extended work assignment in the Buffalo area. While he was originally from Ohio, he also settled in quickly and started enjoying the hotel's amenities, including the saltwater pool and the same gatherings and events that Katie's family attended.
You can probably tell where this story is headed.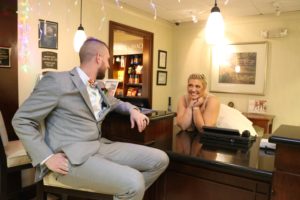 Katie's mom connected with Kalen and his colleagues during dinner. What started as simple neighborliness between hotel guests quickly grew into a comfortable, casual relationship.
Katie's mother and coworkers even teased Kalen, telling him that he just had to meet her daughter and that they'd be a perfect match. Little did she know; Kalen actually had noticed Katie around the hotel and had admired her from afar but felt too shy and apprehensive to approach her.
He didn't realize the attractive blonde woman staying in the hotel and the daughter of his new friend were one-and-the-same. And, as Katie admitted herself, she was "too down in the dumps to notice anyone" at the time, so she didn't make any attempts to connect with him either.
Several months went by, with both Kalen and Katie staying in the hotel each day, likely passing each other in the halls but never introducing themselves. And, though Katie's mom mentioned Kalen frequently and tried to connect them, nothing could pull Katie out of her blue mood and get her to show interest in the charming man her mother had come to know and admire.
Until one fateful day in March, that is. After weeks of coaxing, Katie finally agreed to go with her mother to meet Kalen and his colleagues.
Here's how Katie remembers it: "She tried to sell it to me by saying that I should come meet this guy, Kalen, that was really cute…so naturally, I expected nothing, and to get her to leave me alone, I said fine. I walked down to the lobby with her, and Kalen was standing there, fresh out of the pool, dripping wet in Hollister swim trunks…. His first thought was 'Oh snap, it's HER.' My first thought? 'Oh snap, he IS good looking'!"
From there, the two were inseparable. They spent the first few days getting to know each other in the Staybridge lobby, chatting, laughing, sharing…and feeling an undeniable connection. Nothing lasts forever though, and all too soon, Kalen's work assignment ended and he was recalled to his home in Ohio.
This could have been the end of their story, but instead, they decided to try to keep the spark of their new flame going and just see what might happen.
They stayed together through a long-distance relationship, then were able to begin a life together once Kalen bought a home in Columbus. Although Katie admits that many people thought she was crazy to make a big move after such a short time together, she knew – they both knew – there was something special between them. They were ready to take a chance on love and being together.
Did it work?
It did.
After several years together in a committed relationship, wedding bells chimed for the couple. They were married in late 2019 back in Buffalo.
Any guesses as to where their wedding took place?
If you chose the Staybridge Buffalo, you'd be right.
Kalen and Katie tied the knot in the exact spot in the Staybridge lobby where they met one another in 2015, although, she jokingly recounted, the groom wasn't wearing his Hollister swim trunks this time around.
And the couple realized, more than ever, that things happen for a reason and that joy and delight can be born from the most adverse of circumstances. "If it weren't for the tragedy of a house fire, and for the sheer luck/destiny/whatever you believe in of us both staying at the Staybridge, our paths would have never crossed, and we wouldn't be where we are now, five years later," Katie said.
Although we can't promise you'll find love when you stay at a Buffalo-area hotel, it's reassuring to hear that you just might make some unforgettable connections and memories when you're here to stay. Congratulations and best wishes, Katie and Kalen!