Does the phrase "Ring by spring" ring a bell?
From December to February, love is in the air for sure. In fact, more than 40 percent of all engagements take place during the winter months and particularly on special occasions like Christmas and Valentine's Day.
Once you've either popped the question or said yes, the next big thing on your list should be picking a date and a wedding venue.
After all, when you head back to work, or over to your best friend's house, to show off the new ring, you're going to be asked, "Have you set a date yet? Have you picked a place yet?" And, just like the engagement ring you choose, the space where you get married should also reflect your personal style.
500 Pearl offers a number of beautiful, unique, elegant spaces for weddings and other celebrations. Just for fun, we're matching up a few of the spaces with a personality type; which one is yours?
The Belle of the Ball: Forbes Theatre
You enjoy making a big entrance and having all eyes on you, especially when it's a day you've worked so hard to make perfect.
If this sounds at all like you, the Forbes Theatre might be a perfect place for your reception. This space is magnificent, show-stopping and unique – just like you.
And it offers more than 3,500 square feet of event space (enough to host a banquet for 280+ people), so you can ensure you're able to make your debut as a married couple in front of all the people who've been there for you as your relationship has blossomed.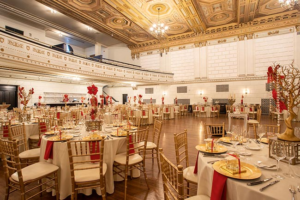 We could see you going all out with a design or a theme that fits the room perfectly – maybe a gilded age style with lots of elegant candelabra and gold embellishments; all to complement the magnificent ceilings and architectural embellishments.
Or, you could consider an opulent Roaring 20s style gathering with big beautiful, tasteful floral arrangements, flowing champagne and big band music – think Great Gatsby, but in Buffalo instead of West Egg.
The Artist: Grand Aeries
You've got a vision in your head, and you've been planning your wedding since you were 9. Sure, the vision has changed a little over time (the colors are no longer hot pink and aqua and there's no baby unicorn ring bearer, for example), but one thing has stayed the same; you're still a visionary ready to design a space that's the fulfillment of years of dreams.
If this sounds like you, Grand Aeries is a prime location for making your vision a reality. The expansive gathering space is a canvas just waiting for you to leave your mark. And, even though the space seats 280 people, its high ceilings and open design ensure it doesn't feel crowded, even when everyone on your list RSVPs "yes."
The room's lines are sleek enough to go with a minimalist look – tall orchids on the tables, a structural design for your cakes, a show-stopping gown or sleek tuxedo. At the same time, the understated elegance makes it possible for you to give your event a lot of color and personality, if you choose, without feeling like you're going over the top.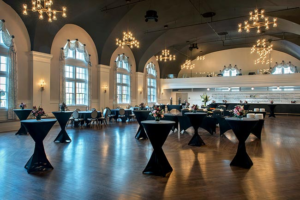 The Gourmand: The Fuhrmann Room
As a gourmand, you've been looking forward to the cake tastings and to selecting the perfect Buffalo-brewed craft beer as much as you've been eagerly anticipating dress shopping or honeymoon planning.
Why? The wedding day is all about you, yes, but it's also all about family, friends and coming together.
If this sounds familiar, The Fuhrmann Room could be the perfect spot for your reception. This event venue is big enough to host a substantial crowd (up to 160 people), so you can bring your crew together without worrying over who to leave off the guest list.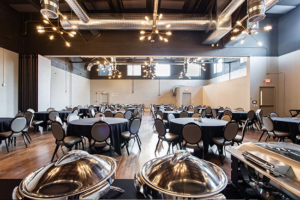 It's also intimate and comfortable enough that the focus can be on great food and memorable conversation. You can decorate with dainty centerpieces that make it easy to get rousing conversations going across the table and can set up with multiple food stations to let your guests get their fill without spending too much time queueing.
The Party Animal
If your idea of a good night out is shutting the bar down with friends, you're going to want to plan to hang out with a few friends for a post-party to toast to your first few hours of wedded bliss.
Regardless of which space you choose to host your event, you can enjoy gathering together with friends at w xyz bar or Patrick's Rooftop after your wedding, so you can spend just a few more minutes (or hours, we're not judging!) enjoying these special moments with your new partner and the people you care most about.
Are we being a little facetious with this list? Maybe.
After all, you're going to love the space you love, and there's so much to love about each and every reception area at 500 Pearl.
You might adore the architecture of the Forbes Theatre, but decide that you want a more intimate gathering. Or, you might come in looking for a space to host your reception but then decide that you also want a unique and fun engagement party at Spare Room, our on-site bowling alley.
One thing's for sure, though – when it comes to your big day, it's all about you, and 500 Pearl has the spaces, services, and expertise to make sure you have a wedding celebration that's unforgettable.