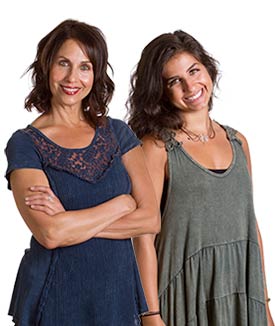 Spotlight:
Susan Morreale, Ciara Morreale
Business: Sarah Danielle
Sarah Danielle is a woman's clothing and accessories boutique. The store is stocked with Buffalo inspired gift items, fresh scents for your home or office, and classic pieces that will never go out of style. Personal shopping services and extended hours available upon request.

Location:
Ellicott Square Building
296 Main Street, Ste 101
Buffalo NY, 14203
In Business:
25 years at Her Story Boutique, and recently took over operations and management at Sarah Danielle Women's Boutique
Facebook:
Sarah Danielle


Q&A
Where did you grow up?
Susan: I grew up out in the country on a farm in Sanborn, New York.
Ciara: I grew up in Niagara Falls, with my playroom in the back of our first store on Pine Ave. Our store has been a family business since it opened 25 years ago.
What did you study in school?
Susan: I went to nursing school and became a registered nurse. I soon began to feel I wanted to help people, especially women, in a different way so I opened up a boutique called Lotions and Potions. I've had the business for 25 years. We started in Niagara Falls, moved to Williamsville, and settled on Elmwood Avenue in Buffalo. After going through breast cancer and realizing how many amazing women I actually had in my life, I began to share their stories and products in my boutique, changing the name to Her Story. After taking over operations of Sarah Danielle, we began to bring this philosophy to the downtown Buffalo retail scene.
Ciara: After studying Marketing at Canisius College, and Fashion Merchandising Management at The Fashion Institute of Technology in NYC, I began working at Teen Vogue Magazine. Shortly after, I quit my high profile job, and moved back to Buffalo to work with my mom to create our Her Story brand, and to be close to my family.
What is your greatest accomplishment so far?
Susan: I think my greatest accomplishment so far is creating a line of Her Story jewelry with my daughter Ciara that inspires and empowers women to life a happy, healthy, grateful life.
Ciara: Our greatest accomplishment so far has been creating a place for women to come and feel comfortable in their own skin.
What inspires you most?
Susan: I get my inspiration from first my mom, she has always been one of the strongest, kindest women I know. Second from all of the amazing strong women I surround myself!
Ciara: My mom is my inspiration for everything I do. The strength that she has shown throughout such a difficult journey, and the way she has turned that into a way to help other women has taught me how to do the same.
If you could give one piece of advice to a large group of people, what would it be?
Susan: If I could give one piece of advice to a large group of people, it would be to enjoy every single moment of your life – good and bad. The good times help us to become more grateful and the bad encourage and inspire us to find our strength and share it with others.