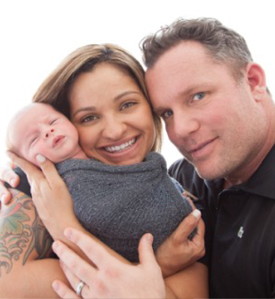 Spotlight: Linda DuBois
Linda's son is the first baby to live at The Fairmont!
Profession:
Mathematics Teacher
Location:
The Fairmont is ideally located in Downtown Buffalo. Bordering the Waterfront and Cobblestone Districts with immediate access to the I-190. Featuring three floors of residential units and such businesses as Pegula Sports & Entertainment, VSP Marketing Graphic, Match Marketing Group, Liazon Corporation, The Mahony Restaurant and Buffalo Cryogenics Contemporary.
Q&A
Where did you grow up?
I was born in New Jersey but have lived in Buffalo for the past 15 years.
What did you study in school?
I attended Buffalo State College where I received my B.A. and M.A. in Mathematics Education and have been an educator in the Buffalo Public School System for the past 7 years.
What is your greatest accomplishment so far?
Although it is a great accomplishment to be an educated Hispanic female, my greatest personal accomplishment is becoming a mother. My now 3 month old son is hands down the greatest joy of my life. It is amazing to know that I grew and birthed another human being!
What inspires you most?
The thing that inspires me most are people who push themselves to overcome difficult obstacles. People that know "I can't" is not an option.