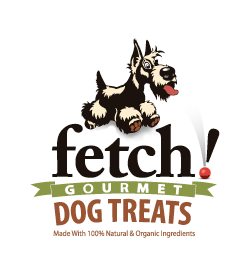 Spotlight:
Fetch Gourmet Dog Treats
A City of Buffalo Artists Market Sponsor
Location:
2655 South Park Avenue
Buffalo, New York 14218-1526
Phone: 716.827.1584
Website:
FetchMeATreat.com
Q&A
About our business:
It all started back in August of 2012 when Jackie (Founder/President) took her newly adopted puppy, Sargent Pepperoni, into the vet for the first time. Along with getting some great suggestions for his regular food choices, it was very strongly recommended that she make his dog treats. So in October of that same year, the very first batch of Fetch! Gourmet Dog Treats were baked!
Thanks in part to a new found joy of baking, a ton of exhaustive research, and a Schnauzer; a hobby started turning into a little bit more. The positive feedback that she received from friends and family that were treating their furry family members with Sargent's treats was overwhelming. So one day while out for their daily walk, she decided that the time had come to become a business owner and Fetch! Gourmet Dog Treats was born.
Today, with the addition of John Griveas in marketing, research and sales and the formation of our LLC, Fetch! Gourmet Dog Treats is better than ever and continuing to move onward and upward. We believe the love that we have for own Schnauzers is shared directly with your dog as they enjoy every last crumb of each and every handmade treat that we produce.
Every ingredient is a product of the USA and is certified organic and/or all natural.
With Fetch! Gourmet Dog Treats, there is/are:
NO Wheat
NO Corn
NO Soy
NO Animal Byproducts
NO Chemical Preservatives
NO Certified Colors (FD&C)
Why we decided to sponsor the Artists Market?
After hearing about the huge success that was the very first Buffalo Artist Market, and being lucky enough to be chosen for the Spring edition, it was a no brainer for us to jump at the chance to have our company be involved in what is sure to be a hugely sought after space for what will likely be years to come. Buffalo is an amazing city to live in and build a business in. We are incredibly proud to be able to be a part of its renaissance in every way possible.
What charitable or philanthropic work does your business do?
We regularly donate to and volunteer our time or services to
• SPCA Serving Erie County
• WNY Heroes
We also work very closely with several rescue groups and clubs to provide treats for special events, fundraisers and gatherings
Company's greatest accomplishment so far?
We are incredibly grateful to each and every one of the 28 retail locations that currently carry Fetch! Gourmet Dog Treats. Especially with the addition of all local Dash's and Feel-Rite Markets being added to that list within the last month.
What is the best part about working and being located in Buffalo?
The people. Doing these shows and farmers markets, you start to work with a lot of the same people and companies often and that results in friendships and business relationships that translate into other opportunities. It very truly is like an extension of your own family. We support one another, we vouch for one another, and our homes are filled with each other's products! I've lived all over the world and there really is no place quite like Buffalo, NY.