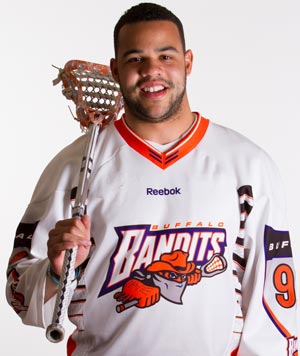 March Spotlight: Dhane Smith
Age: 22
Profession:
Professional Lacrosse player
The National Lacrosse League has announced Buffalo Bandits forward Dhane Smith as March Player of the Month for the second-straight month. Smith ranking first in goals (33), assists (43) and points (76), with a 21-point lead over the next closest player.
Location:
First Niagara Center
In the NLL:
3 years
Website:
www.bandits.com
Q&A
Where did you grow up?
I grew up in Kitchener Ontario about an hour and a half from Buffalo.
How did you get into your profession?
I got into my profession from my dad and also my cousin who I play with here in Buffalo.
Favorite Buffalo neighborhood?
I would have to say my favorite neighborhood in Buffalo would have to be Elmwood. Living downtown I get the chance to go down Elmwood a lot.
What did you study in school?
Although I did have scholarships to the states, I chose to stay home and go to school [in Canada] for business marketing.
What is your greatest accomplishment so far?
My greatest accomplishment would have to be winning the world championships with team Canada in Syracuse this past September.
What inspires you most?
What inspires me the most is the people around me that push me to be the best I can be. Whether it is teammates, friends or family.
If you could give one piece of advice to a large group of people, what would it be?
My advice to people whether it be playing sports or school is do what you love to do and don't let anyone stop you.