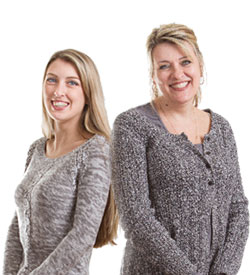 Spotlight:
Bon Bon's Gluten Free Bakery
Ellicott Square Food Court
We opened our doors on 11/01/2011 so we have been in business for a little over 5 years. We opened up in the Ellicott Square Building lobby on 02/13/2017.
Hours:
Monday–Friday
8am-2pm
Location:
Ellicott Square Building
295 Main St
Buffalo, NY 14203
OR
1298 Orchard Park Road
West Seneca, NY 14224
Website:
bonbonsglutenfreebakery.com
Facebook:
facebook.com/
BonBonsGlutenFreeBakery
Q&A
Where did you grow up? How did you get into your profession?
I grew up in West Seneca. When my daughter was diagnosed with Celiac, I had to learn to cook and bake gluten free. One day my husband and I were driving past Orchard Park Road and there was a space available. Through the encouragement from my family we took on this adventure. That space today is now the growing and thriving Bon Bon's Gluten Free Bakery.
What is your greatest accomplishment so far?
I feel my greatest accomplishment so far, was to be the first 100% gluten free bakery to open in Western NY. Also, I feel that it has been a humbling experience to still be in business, after 5 years, with no training, just the need and passion to cook and bake gluten free. One other accomplishment that I am proud to mention, is our new, 2nd location at the Ellicott Square Building.
What inspires you most?
My Christian faith keeps me grounded and encouraged to keep going. My daughter is my inspiration. I would have never learned to cook and bake gluten free nor opened Bon Bon's Gluten Free Bakery if it wasn't for Ariahna.
What is your favorite food item available at the Ellicott Square Building location?
My favorite food item at the (Ellicott Square location) is our Meatball Sandwich, I also really enjoy our spicy cheddar soup.
What is one dessert you offer that you think everyone should try?
Almond rings are my favorite dessert item (Sold only at the West Seneca location). My second favorite would be the sugar cut out cookies (which are sold at both locations).
Why did you decide to offer exclusively gluten free foods?
We decided to offer strictly gluten free foods, because we experienced first hand how difficult it can be to find a place that is safe to purchase gluten free foods, due to cross-contamination.
Who can eat gluten free food?
Those who are and are not gluten free can enjoy our food from our gluten free bakery.