These glorious autumnal hues are just the universe's way of making us long for the cooler autumn weather. And, in Buffalo, it's a nice way to memorialize the bright reds, yellows and oranges that come with fall before we start enjoying a whole lot of snowy whiteness to conclude the year.
Fall is one of our favorite times of year because you get all the fun, festive, themed goodness of the fall holidays, without the manic hustle that comes with the Christmas season, or the rush-around of managing kids' schedules during summer.
There are so many fun activities to do around Buffalo during the fall. We've put together a few of our favorites; you should plan a weekend excursion to take in all Buffalo has to offer.
Get Spooked at Nightmare Hayrides
If having your pants scared right off is a prerequisite for your fall fun, put Nightmare Hayrides on your list. The Ellicottville-based haunted attraction is well-known as the scariest adventure in Western New York.
Here's a rundown of the adventure: first, a 25-minute hayride winds you through some of the freakiest, creepiest sights and sounds you've ever experienced.
Then, it's up to you to navigate the twists, turns and terror of the haunted wooden maze. If you survive that far, you'll cross through the haunted barn and the vortex tunnel.
After all that, congratulate yourself with a treat from the cook shack and a good night's sleep at your Ellicottville hotel (the Wingate is our top recommendation).
Pick a Perfect Pumpkin at Pumpkinville
Wondering why we're recommending an overnight stay in Ellicottville? Because there's nothing like wholesome farm fun to chase away the horror hangover you might experience after the Nightmare Hayrides.
Pumpkinville is a must-visit if you have a family, or if you just love fall, or if you're a fan of kettle corn – any and all of the above.

With more than 200 acres of fun, you can find the perfect decorative pumpkins and gourds for your home, enjoy a miniature train ride around the farm's premises, or fire up the Apple Blasters for some good, old-fashioned produce-shooting.
Don't forget to take time afterward for a stop at The Pumpkinville Grill; a freshly-made pumpkin doughnut is also a must.
Feed Your Sweet Tooth at Mayer Bros. Ol' Cider Mill
Buffalo may not be the Big Apple of New York, but we definitely have some big, luscious apples that are ripe for your fall time enjoyment.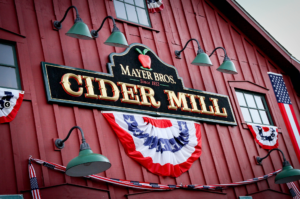 One of our favorite places to enjoy the bounty of an apple harvest is at Mayer Bros. Ol' Cider Mill in West Seneca.
It's more than just an apple-picking adventure; the cider mill also features a variety of fun family activities to enjoy. From a pumpkin patch to free carriage rides, your children will be begging for a trip (and you'll probably secretly join in right along with them).
And, we haven't even mentioned all the apple-flavored goodness yet.
Every apple-laden delicacy you can imagine is on display, but we're partial to the cinnamon-sugar goodness of the apple pies. And, if you're looking for something completely different to sample, the apple slushies are a sweet-tart flavor experience you've probably never enjoyed before.
We recommend spending the night in a West Seneca hotel and using it as your homebase for some gorgeous fall foliage drives throughout Western New York. Hey, maybe it's just an excuse to be able to get a candy apple from Mayer Bros. for the drive on your way out of town, but who can really resist that apple-y, caramelly goodness, anyway?
Indulge in Autumnal Brews
A significant portion of Buffalo's history is built on grains and hops And, thankfully for beer enthusiasts everywhere, the renaissance Buffalo has recently experienced means that brewing has come back in full force to the Buffalo area.
Local brewers create their own delicious seasonal beer varieties, which you shouldn't miss out on sampling during the fall season. They're not all necessarily tradi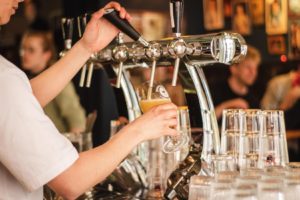 tional Oktoberfest/Marzen variations, but there are plenty of unique harvest or autumn-inspired brews worth checking out.
Plan a weekend trip (or a little staycation if you're local) at the Aloft Buffalo. You can easily Uber between destinations to sample the wares of several nearby breweries. Our perfect brewery crawl might include the following:
Start at

Resurgence Brewing's

new Cooperage location and try their Oktoberfest, a rich, malty Marzen.

Swing up to

Buffalo Brewing Company

and try the Oat Cream IPA. No, it's not an Oktoberfest beer, but you can also enjoy their 1826 Oktoberfest. Yes, your tastebuds will thank you anyway, regardless of which option you go with.

Hit some of the best downtown spots:

First, try

Lafayette Brewing Company

for a round of barcade games to accompany your beverage of choice.

Then, finish off with the Honey Marzen at

Big Ditch Brewing Company

. They actually have a whole list of seasonal beers we want to try out, including the Cinnamon Apple and the Fall Black.
While this entire beer-laden trek only encompasses about three miles of distance, you'll probably still want to grab a cab or rideshare, just to make sure you're traveling as safely and conveniently as possible. After you finish your last stop, you'll be close enough to enjoy a leisurely stroll back to the Aloft before calling it a night.
Explore Niagara Falls State Park
If you think the falls are lovely on a regular day, just imagine their pristine, cool beauty surrounding by the flaming red-orange glory of fall foliage. We highly recommend a leaf peeping outing where you can get the falls in your sights, and Niagara Falls State Park fits the bill.
You can enjoy a guided hike or can do the traditional Niagara Falls excursions. Dining at Top of the Falls is a favorite for a romantic fall getaway and breath-taking views. And, if you stay at The Giacomo, you can wake up to a breathtaking fall skyline from your luxurious suite.
There's so much to do and see and taste and savor that's unique to fall. Be sure you take a few moments in between your explorations around Buffalo to sit back and smell the pumpkin spice, then to take in all the seasonal goodness our unique city has to offer.