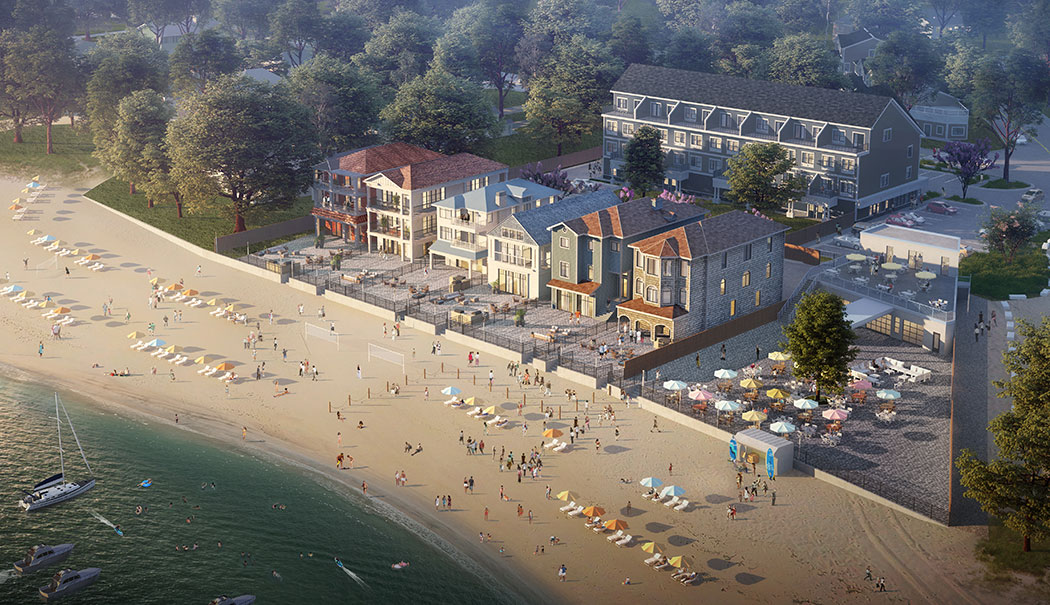 A Complete Redevelopment of the Current Mickey Rats Beach Club Property
Mickey Rats Beach Club has been a long-standing institution in this beach community for over 40 years. After several years of work with our design team and the Town of Evans, we are excited to embark on the creation of an exciting new residential, mixed-use community on this property. In total, the development will include 21 new residential units in addition to new retail and a new restaurant/beach bar facility.
The project consists of four different Phases; The Townhomes at Grandview Bay on Iroquois Street including eight units in two unique floor plans, a four-story condominium building with ground floor retail and seven tri-level condominium units on the upper floors named The Residences at Grandview Bay, six exclusive waterfront home sites named The Waterfront Homes at Grandview Bay, and a construction of a new beach club and restaurant. Each residential phase is explained more on the attached flyers along with the amenities for each.
The new beach club will maintain a beach bar atmosphere in a brand-new two-story facility with a large outdoor concrete and sand patio on the ground level with an expansive indoor/outdoor bar. The second floor will include additional bar area and a spacious rooftop patio. The new facility, combined with outdoor music and food service with an expanded variety of food choices will preserve Mickey Rats Beach Club as a popular summertime destination.
The beach will be split into public and private sections remaining largely public and utilized by the bar/restaurant patrons and the general public. We will maintain volleyball, paddle boarding, kayaking and other amenities for patrons on the public beach. The public beach area will have its own dedicated entrance outside of the new Mickey Rats Beach Club.
The Townhomes at Grandview Bay and the new Beach Club are expected to begin construction by the end of September with demo slated for right after Labor Day. The Waterfront Homes at Grandview Bay along with the new four-story condominium building will begin construction, weather permitting, sometime in the months following.
Given the thoughtful approach to design and community feel that will result, we anticipate that the new residents along with the existing Grandview Bay community will be pleased with the transformation of this property and completion of this exciting redevelopment.
PDF Flyer
Contact Us About This Property