It can be so much fun to move into a new place. You have a brand-new blank canvas, one you can decorate exactly how you want to make it a true home.
Moving to a new apartment for the first time can be especially fun because you might not have a lot of furnishings to bring with you. If that's the case, you really will have the opportunity to design your new home with a distinct style in mind.
There's just one problem.
Decorating a new place can be expensive.
You're envisioning a cozy, welcoming, inviting space. However, buying that perfect sofa, that new kitchen table, or that imposing bed frame can take a big bite out of your decorating budget.
We've put together some tips for furnishing your rental without breaking the bank.
1. Ask Your Family and Friends.
Almost everyone has a few items stashed in their home or garage… you know, the things you want to get rid of, but just can't bear to part with, like a bookshelf from a childhood room or a favorite faded-but-still-comfy armchair from a grandparent's home.
For some people, their possessions really carry a great deal of meaning, and they can't bear to think of them heading to the dumpster or to a thrift shop where they may not be fully appreciated.
Handing them over to a friend furnishing a new apartment may be just the push they need to clean out their space. And, of course, it's mutually beneficial; they're cutting back on their clutter and you're getting free furniture for your place.
One side note: tact may be required if they're offering to hand over something you hate. Things like faded patterns on a sofa can be covered with an inexpensive slipcover; things like a garish clown painting can't be covered up and can have a big impact on the mood of your space (just ask Eleanor Shellstrop from The Good Place!).
2. Research, then Bargain Shop.
Pinterest is a great place to look for interior design ideas. You can find rooms that suit your personality and preferences.
If you love the cool, relaxing effect of being surrounded by blue, you can find rooms that fit that aesthetic. If you're a big fan of mid-century modern, ideas and room layouts are plentiful and give you a great starting point for your own design.
One of our favorite things to do with Pinterest is to find something we love, then try to find a duplicate or a similar option at a lower price. Love a gorgeous cashmere throw draped effortlessly over the corner of a sofa? You might be able to grab a blanket with a similar look for a steal at a bargain shop.
3. Check with your Property Management Company.
Property management companies want their apartments to look polished and professional when they're presented to potential buyers. Generally, they'll have apartments all set up with furniture when you're touring, so you can visualize what a space might look like and how great it might be to live in (see the space at 1285 Main Street in the image below? We're already ready to move in and enjoy that cozy sofa!).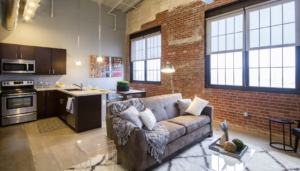 The team staging these spaces usually has great taste, and, lucky for you, they also often have furnishings available for your own apartment. You can talk to the property management team about renting furnishings for your new dwelling.
Ellicott Development, for example, provides furniture for rent to its apartment tenants, so you don't have to worry about making a long-term investment in furnishings when your taste or living situation may change in the future.
4. Secondhand Shop.
Thrift shopping – the top way to grab bargains, even before Macklemore started rapping about it – is still a great option for finding furnishings for your apartment.
It can make sense to search for items like art, organizing supplies and lamps at thrift stores. They're usually very gently used and can be a bargain compared to their retail-priced counterparts.
Then, you can make your money stretch further on those signature pieces that you really want and that make your house a home.
5. Only Choose Things You Really Love.
One of the best rules of thumb when you're furnishing an apartment is to just buy things you love. If you buy or choose items because they fit in the space or because they're on sale, you may not feel as comfortable in your home as you deserve to.
That's one scenario where furniture rental from your property management company can come in handy. Go with comfortable basics on big furniture pieces, then invest your money in art, dishes and decor that make you happy every time you see and use them.
Moving into a new apartment for the first time is a really exciting life step – congratulations on entering this new era in your life. If you're still shopping for a place and need guidance or support, check out all the great apartments Ellicott Development has to offer.