Exercising is an excellent way to stay fit and improve your overall well-being. However, it would help if you found the right workout spot to achieve your fitness goals. Whether you are planning to move or just curious to find workout spots near me, Buffalo, NY, has several options worth exploring. Here's a quick guide to some of the best Buffalo, NY, gyms.
Living an Active Lifestyle in Buffalo
Staying active boosts your health and overall quality of life. Unfortunately, many struggle to maintain a physically active lifestyle due to hectic schedules. You can avoid being one of them by taking advantage of Buffalo, NY, gyms and fitness centers.
What to Look for in A Gym
When you head to Google to search for workout spots near me, many results will pop up. However, picking a gym that fits your workout plans and lifestyle is vital to ensure an optimal outcome. Some qualities of a good gym include the following:
Quality Equipment. Machines and other tools are essential for an effective workout. Make sure the equipment at the gym meets your needs.
Flexible Gym Hours. Since busy lifestyles make scheduling your workouts difficult, look for a gym that offers flexible hours.
Location. The facility should be conveniently located near you. You can easily get there after work for a quick workout session.
What to Look For in a Fitness Venue
A fitness venue is your best bet if you prefer a more specialized workout approach. Features to look for in Buffalo's best fitness venues include:
Variety of Classes. Select a venue that offers various classes, such as yoga, boxing, and Zumba. The class schedule should also accommodate your lifestyle, allowing you the flexibility to attend as many sessions as possible.
Qualified Instructors. The facility should have certified, professional instructors to help you create personalized training programs.
Top-Notch Equipment. Ensure the fitness venue has several modern and well-maintained pieces of equipment for your custom workouts.
Busiest Times. The busiest times at the gym should be suitable enough for you to attend. For example, if you prefer afternoon classes, look for a fitness venue that is less crowded at those times.
Support System. The venue should have a strong, supportive community to help you stay motivated as you work towards your fitness goals.
Downtown Buffalo Fitness and Workout Spots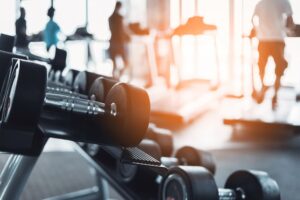 If you're searching for the 'best workout spots near me,' here are some options to help you get started.
Impact Sports Performance
Impact Sports Performance is one of the best Buffalo, NY gyms for athletes, patients, and recreational fitness enthusiasts. Located on Genesee Street, Cheektowaga, this state-of-the-art facility provides programs like athletic performance training, adult fitness classes, and physical therapy service.
Central Rock Gym
Central Rock Gym is a state-of-the-art indoor rock-climbing gym offering one of the largest climbing areas in Western New York. Besides rock climbing, they also have yoga and fitness programs for people of all ages.
Jewish Community Center of Greater Buffalo
The Jewish Community Center of Greater Buffalo is another top facility likely to appear in your workout spots near me search results. It's situated on Delaware Avenue and features over 100 group classes, including yoga, Pilates, and Zumba.
[Sweat] Society
Take your workout to the next level by visiting [Sweat] Society on Hertel Avenue. This fitness spot specializes in high-intensity interval training that combines punch, power, and pace.
Run City at Ellicott Square Fitness
Run City at Ellicott Square Fitness ranks high among Buffalo, NY, gyms with the best instructors and equipment. Whether you are a beginner or an experienced runner, this facility in the Historic Ellicott Square building suits your needs.
Buffalo Living is a Step Closer when you Choose Ellicott Development Company
Finding your dream home in Buffalo, NY, doesn't have to be difficult. At Ellicott Development Company, we can help you find an apartment that's perfect for your needs. Our property listings include apartments in Niagara, Western Pennsylvania, and Upstate New York. Contact us today to learn more about our services.
Image Source: MR.SOMKIAT BOONSING/WHYFRAME/Shutterstock