If you're trying to get to know the city where you live, there's really no option that's more ideal than a bike ride. Biking gives you the opportunity to get around more quickly than walking, but also gets you out into the elements, so you can feel the temperatures, smell the fresh air and commune with the space around you in a way that just doesn't always happen in the car.
Buffalo has many wonderful options for bikers, and there's plenty of variety in the routes, from trails that run through cemeteries to those that look out over the Erie Canal.
We've compiled a few of our favorite bike trails on the water in Buffalo, as well as listing a few honorable mention favorites – you should take time to strap on your bike helmet and enjoy the sights and sounds of Buffalo on bike!
1. Ride from Wilkeson Pointe
Taking the Queen City Bike Ferry opens up a whole new world for cycling enthusiasts. You can ride to and through Wilkeson Pointe, a picturesque public space popular with local bikers.
If you're feeling particularly adventurous, you can keep cycling north and enjoy a visit to the 1833 Lighthouse grounds.
And, to treat yourself afterward, be sure to budget time for a beverage or snack and some water-gazing time in the Adirondack chairs scattered around the waterfront.
This trail is perfect for those who live in the Canalside area, including at 960 Busti, one of the nearest apartment options convenient to this ride's starting point.
2. Scenic Elmwood Avenue/La Salle Park Ride
While this isn't a waterfront-only bike ride, the fact that you end your jaunt in one of the city's largest waterfront parks is a major plus.
Start at JT's Restaurant in Elmwood Village, then bike south along Elmwood Avenue, taking time to people watch and enjoy the beautiful atmosphere of this quaint, yet vibrant section of Buffalo. Head west on Virginia Avenue, then end on the bike trails in lovely La Salle Waterfront Park.
Or alternatively, you could start at La Salle Park and reward yourself with a dinner at JT's at the end of your city cycling experience. If you're a resident of 1 Delaware's luxury apartments, you'll also have the good fortune of being home when you call it quits on the bike.
3. Water Bikes of Buffalo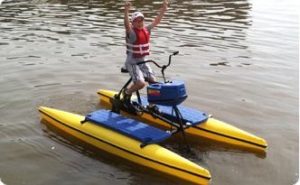 If, when you said "bike trails on the water," you literally meant "bike trails on the water," Water Bikes of Buffalo might be a dream option for you. You can explore Canalside in style on one of their bikes or on a traditional pedal boat.
4. Greenway Nature Trail Ride
Perfect for those who are new to biking, the Greenway Nature Trail Ride is short on distance and long on great views. It's only about a 1.2 mile ride, but it can make you feel a world away as you're surrounded by nature.
If you find that the short ride has just whetted your appetite for cycling adventure, you could continue your excursion through Tifft Nature Preserve. Residents of 301 Ohio can easily make this jaunt from their apartment if they don't mind some ride time along the river, or can make the short (less than five minute) drive with bike in tow.
5. Erie Canal Ride
If you're brave, bold, have calf muscles of steel and don't mind dedicating a few consecutive days to biking, the annual Erie Canal Ride is the mother of all waterfront cycling excursions.
The 8-day adventure features a ride all the way from Buffalo to Albany, but riders can also sign up for 2-day or 4-day experiences on a shorter overall trail.
Other Biking Options around Buffalo
If you're a novice biker and not quite ready to kick off your proverbial training wheels, there are plenty of options that can help you become more comfortable with cycling or that can make the cycling adventure a little more fun.
For example, Slow Roll Buffalo is a biking group that's intended to foster inclusivity and encourage people of all skill levels to come together, bike together and enjoy the community together. While Slow Roll is typically a 10-mile loop ride, it also includes opportunities to ride at your own pace; chat with neighbors; make new friends; and explore different neighborhoods around the city.
Buffalo Bike Tours also offers several biking opportunities you can take advantage of. Their tours can also combine something fun, like a foodie experience revolving a fun wing tasting. This added layer of interest makes a Buffalo Bike Tour an ideal option for a first date, a friends' get-together or a recurring date night. The company also offers a waterfront tour that includes a guided excursion around Buffalo's Outer Harbor.
If you're a little less interested in biking for exercise, and a little more interested in biking as a way to enjoy the fruits of our local breweries, a Buffalo Pedal Tour could be a great option for you. On these tours, pedaling is optional; you technically don't have to pull your weight to keep the party bike moving, but you still get the see all the fun things the city has to offer. Sounds like a win-win.
These are just a handful of the biking options Buffalo has to offer; there are dozens more in the city and in natural areas surrounding Buffalo. It's just one more reason that Buffalo is a great place to live, work and enjoy life.