Outer Harbor in Buffalo is the ideal place to be if you desire new experiences in Western New York. Located just a few miles from the city center, this vast waterfront gives striking views of the city and Lake Erie. It is also home to various attractions and fun activities, including kayaking, fishing, and biking. Whether you are planning to relocate to or simply visit the city, let us guide you on everything you need to know about Outer Harbor in Buffalo, NY.
Wilkeson Pointe
Wilkeson Pointe is a 15-acre public space at the Outer Harbor that offers stunning views of water and sunsets. This area has an alluring walking path that borders the lake, presenting the perfect spot for a relaxing stroll.
Activities you can enjoy at Wilkeson Pointe include biking, skateboarding, fishing, and playing table games with your family or friends. Amenities like restrooms, bike racks, bike rentals, free fitness classes, and a playground for kids are also available.
Experience The Outer Harbor with Kayak/Water Sport Rentals
Outer Harbor in Buffalo is equally a popular destination for water sports enthusiasts. The clear blue Lake Erie waters make it an exceptional place for kayaking or stand-up boarding. You don't have to worry about bringing your own equipment here, as several rental companies offer water sports rentals, such as pedal boats, kayaks, and paddle boards. Fun activities in the water are an excellent way to appreciate the sights and sounds of the enthralling Outer Harbor.
The Lakeside Complex
The Lakeside complex is the latest addition to Outer Harbor. It is free to the public and opens from dawn to dusk. Further, it is home to the Independent Health Wellness Trail and features the following:
Lakeside Bike Park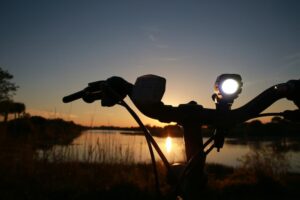 Presented by Independent Health, the Lakeside Bike Park has three mountain bike trails for all types of riders visiting Outer Harbor in Buffalo, NY. Besides, it features a pump truck, skills loop, and a tot track for young riders.
Riding at Lakeside Bike Park gives you spectacular views of Lake Erie while also allowing you to interact with the natural habitats. If you or your friends are hungry, you can grab a bite at the food truck conveniently located within the park. In addition, mountain bike rentals are obtainable at $15 per hour or $24 for 4 hours.
Lakeside Lawn
The Lakeside Lawn is a presentation of the Greater Buffalo Area Honda Dealers. It is known for hosting multi-day festivals and large events. If you are searching for more Outer Harbor things to do, consider a stroll to the Lakeside Lawn and have the time of your life with the best entertainment alongside dazzling sunset and water views.
By Foot
The Wellness Trail at Outer Harbor
The Wellness Trail is among the most scenic trails in Buffalo, NY. Sponsored by the Independent Health, this 3-mile trail starts at Wilkeson Pointe and goes through Outer Harbor Event Space, Bell Slip, to the new Lakeside Bike Park. Enjoy a jog, run, or walk on this paved trail while admiring the gorgeous natural scenery.
Bell Slip
The Bell Slip offers a quiet retreat to indulge in wildlife sights, fish the peaceful inlet waters, or listen to the birds chirp. Native flowers bloom seasonally, making a perfect background for memorable photos. For the best experience, visit the Bell Slip from sunrise to sunset. Also, remember to follow all the rules to ensure the safety of plants and other visitors.
Living in Downtown Buffalo Has Perks – Choose Ellicott Development for Your Next Apartment Home
Downtown Buffalo, NY, is a vibrant, growing city with a thriving community with something for everyone. With plenty of things to do in Outer Harbor, you'll never run out of fun activities.
If you are contemplating a move to Buffalo, Ellicott Development can help you find a wide range of apartments within your needs and budget. Whether you would like an urban lifestyle in the city's heart or a waterfront home to give you striking views of Lake Erie, our apartments are strategically located so that you will enjoy them for years to come.
Contact our team today to schedule a tour of our properties.
Image Source: Mike Kuhlman/Blueee77/Shutterstock