Education is a critical investment you make for your children and, therefore, a key deciding factor when relocating to a new area. The quality of the school district is an essential consideration when parents seek homes for rent or sale. If you are planning to move to Western New York, you might want to take a closer look at available educational institutions in the region. This post explores the best school districts in Western NY based on multiple factors, including test scores, graduation rates, and college readiness.
WILLIAMSVILLE CENTRAL SCHOOL DISTRICT
As an outstanding school district, Williamsville Central is located in the town of Amherst, New York. This district serves approximately 9,500 students in 17 schools. It has over nine elementary schools, four middle schools, and three high schools. As a result, parents have a wide range of schooling options to choose from.
These schools are well-regarded for their academics, earning several recognitions from the U.S. News and World Report. For instance, Williamsville East High School is ranked as one of the best high schools in New York State. With a graduation rate of 95% and an over 60% college readiness rate, it is easy to see why.
CLARENCE CENTRAL SCHOOL DISTRICT
Located in the town of Clarence, New York, the Clarence Central School District ranks among the best school districts in Buffalo, NY. It serves around 4,500 students in six schools, four of which are elementary schools, with one middle school and one high school. The Clarence Central School District has all its teachers licensed and certified.
The average student-to-teacher ratio is 12:1. Hence, you can rest assured that your child will get the individual attention they need to succeed. Academically, this district's schools are top-level. About 79% of students here are apt in mathematics, while over 74% are proficient in English.
AMHERST CENTRAL SCHOOL DISTRICT
Amherst Central School District is another exceptional school district located in Amherst, New York, and is arguably one of the best school districts in Western NY. The area has a little over 2,989 students in four schools. Diversity is one of the district's defining characteristics. Over 28% of students come from minority groups.
One thing that sets it apart is the number of resources accessible to students and families. It has a community resource center that provides various services, such as after-school programs and counseling. Academically, the district's schools are solid. The high school has a graduation rate of 94%. In addition, over 60% of students are college ready.
EAST AURORA UNION FREE SCHOOL DISTRICT
This school district is located in the town of East Aurora, New York. It serves around 2,947 students in seven schools, including one high school, one middle school, and two elementary schools. Its commitment to arts education distinguishes it from others. The district's Arts in Education program offers students opportunities to participate in the visual and performing arts.
Schools in this district are also high-achieving academically. The high school has a graduation rate of 90-94%. Besides, the public schools have an average math proficiency of 70%, much higher than New York's state average (55%).
LANCASTER CENTRAL SCHOOL DISTRICT
Strong academics are a hallmark of the Lancaster Central School District. The district is located in the town of Lancaster, New York, and serves around 5,529 students in 9 schools. It has six elementary schools, two middle schools, and one high school.
With a reading proficiency of 97% and a math proficiency of 91%, Lancaster Central School District is home to some of the best-performing schools in Western New York State. And while there aren't many high schools in this district, Lancaster High School ranks in Buffalo, NY's top 10 high schools.
ORCHARD PARK CENTRAL SCHOOL DISTRICT
If you are looking to move to West Seneca, the Orchard Park Central School District could be an ideal option. It is among the areas with the best school districts in Western NY. Over the years, schools in this district have received numerous awards and accolades for their excellence in athletics and academics.
The district serves around 4700 students in six schools; one preschool, one high school, one middle school, and four elementary schools. It boasts of having 94% of the teachers with more than three years of teaching experience.
FIND THE BEST APARTMENTS IN THE BEST SCHOOL DISTRICTS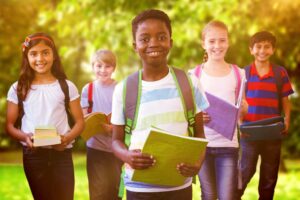 With remarkable school districts comes great responsibility to find the best apartments. If you are looking for a place to call home and raise your family, look no further than these top-rated school districts in Western New York. These academic institutions will set your children up for success, from early childhood education to college prep schools.
Ellicott Development is an experienced professional estate development and management company with a wide range of properties to choose from. Contact us today, and we will help you find a suitable location near one of these top-rated school districts in Western New York.
Image Source: Shutterstock/ Stuart Monk / wavebreakmedia