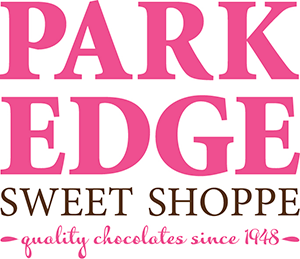 Park Edge Sweet Shoppe
325 Abbott Road
Buffalo, NY 14220
anna@parkedgesweetshoppe.com
716.824.0228
Hours of Operation:
M-F 10am- 7pm
Sat 10am-4pm
Tell us a little about your business. When did you start and what do you do?
Since 1948, Park Edge Sweet Shoppe has been providing fine chocolates to the Buffalo and Western New York area. We are home to the original Sponge Candy sticks, the product we are most known for. My sister Maggie and I purchased Park Edge in 2011, and while we have kept the recipes and traditions of the original Park Edge Sweet Shoppe, we have also introduced even more confections that have become local favorites. Our whipped peanut butter sponge candy is unlike any other, and our large variety of house made truffles and chocolate barks are always in high demand. In February of 2013, Maggie and I purchased local favorite Cookie Expressions and moved it into our Park Edge home.
What is the greatest feature/accomplishment of your business?
The greatest feature of Park Edge is our sponge candy. It is made in house daily in small batches and hand cut into a stick shape which creates the perfect chocolate to sponge ratio. We also cut our sponge into different shapes during the holidays, such as Christmas trees, hearts and Easter eggs. The newest addition to our sponge candy line is our whipped peanut butter sponge candy which has become a local favorite.
What charitable or philanthropic work does your business do?
The local community around Park Edge is extremely important to us because it is the town in which we grew up. During the season, we not only donate to many local schools, sports teams, and organizations, but we continue to work with Catholic Charities, Senior Wishes, Haven House and Valley Community Association each year. By working with Catholic Charities, we are able to provide recent GED graduates with an example of a work place environment to prepare them for upcoming job placements. With Senior Wishes, we partake in their yearly gala to help grant life enriching wishes to deserving elderly of WNY. Each year during Christmas, we team up with Haven House to collect donations for families in need. In exchange for these donations, we offer our customers discounts on their holiday chocolate purchase. This has brought in over $5,000 worth of donations for Haven House. Also during Christmas, we adopt a local family through Valley Community Association that needs some extra love and care during the holiday.
Why did you choose to sponsor the artists market?
The community is a vital part of our Park Edge family and we love to participate in events that allow us to continue and grow that relationship.
What is the best part about spring in Buffalo?
No snow! ☺ As the weather gets warmer and the trees become greener, spring is beautiful in Buffalo. Everyone comes together to clean up the remnants of winter and there are so many great outdoor events!
What is your favorite thing about working and being located in Buffalo?
Buffalo is a city that is unlike any other. There is such a great sense of community and pride – after all, Buffalo IS the City of Good Neighbors. Everyone is very supportive of not only small businesses but of each other. We are able to really get to know our customers and help them out when needed. We consider ourselves very lucky to be a part of that.
Mimosa or Bloody Mary?
Bloody Mary, of course! The spicier the better!