Buffalo's got a lot of local flavor, and we're not just talking about the history, the architecture or the scenery. All around Buffalo, restaurants beckon with unique options, interesting combinations and great names (we admit it, we're always the ones ordering that cocktail with a pop culture reference).
If you're trying to find a great spot to eat in Buffalo, we've put together a list of some of our favorites.
Likeable Lunch Spots
If you're craving something new and interesting for lunch, Buffalo has you covered. Whether you're in a hurry, looking for variety or interested in savoring a long lunch break, these options should fit the bill.
1. Order Ahead at Eat Rite Foods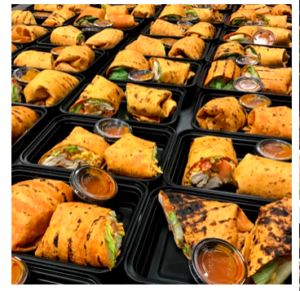 If you're trying to balance healthy eating with a busy schedule, it's not always easy to manage both. Luckily, that's where Eat Rite comes in. The city's top meal prep service provides a wide variety of healthy, high quality foods.
Eat Rite patrons place their orders online, then pop by the physical store to grab and go. The menu varies each week and the latest healthy choices can be found on the Eat Rite website.
1 Delaware Rd, Kenmore
2. Pick what Pleases your Palate at the Ellicott Square Building.
Technically, this unique place comprises a whole bundle of tasty and easily accessible places. The Ellicott Square Building is one of our favorite lunch spots because of the variety available at building's casual dining options.
We like treating ourselves to a beef on weck from Charlie the Butcher Express, or getting a couple of slices of eggvacado toast from The Grove.
And, in addition to enjoying your choice of local favorites, you'll also be able to spend your lunch hour enjoying the visual feast that is the Ellicott Square Building's architecture. Warning: if you try to count the floor tiles, you may be late getting back to your office. Over 23 million pieces of Italian marble make up the elaborate design.
295 Main Street, Buffalo
3. Sample, Sip and Snack at Spot Coffee.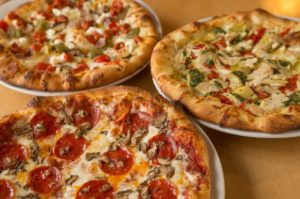 If you thought your favorite coffee hot spot was just for an early a.m. wakeup call, you thought wrong. Spot Coffee bills itself as "your cafe all times of the day."
The local favorite offers all day breakfast, decadent dessert, gourmet pizza and more. Oh, did we mention they also serve coffee?
Fresh favorites include the quinoa salad and the California veggie omelet. If you're looking to satisfy a sweet tooth craving, consider a Belgian waffle topped with fresh fruit and caramel or a SpoTsicle, the cafe's unique take on a milkshake.
1 Kenmore
Delectable Dinners
If you're planning an evening out with family or friends, Buffalo has a variety of options available, from casual and comforting to trendy and tasty.
4. JT's
Located in the popular Elmwood neighborhood, JT's offers an urban Italian experience with a menu that covers everything from seafood to pasta to wood-fired pizza. The drinks menu is expansive as well, with wine by the glass or bottle, beer, cocktails and mocktails (or sparkling cocktails, as the menu refers to them).
Popular favorites at this trendy spot include the fig pizza with prosciutto and arugula, the JT's chicken cutlet and the spinach fettuccine. Of course, if you're dining with a group, starting your meal with the creamy, fresh burrata is a must.
Elmwood Ave & W Delavan Ave, Buffalo
5. Forty Thieves
A Yelp reviewer said "honestly they're doing everything right from the atmosphere to the food to the service." We tend to agree.
The Elmwood favorite has daily lunch specials, including fish and chips on Fridays. The bar is buzzy and has an Irish feel, and is (appropriately) stocked with a good variety of whiskey options. If you're in the mood for something tasty yet traditional, try the corned beef on rye. Feeling a little adventurous? The PBJ burger (on brioche with blackberry bacon jam) should be at the top of your list.
727 Elmwood Ave, Buffalo
6. Dos Amigos
One of the top reasons to enjoy Dos Amigos is the lakefront view. Soaking up the sun while indulging in good food and great conversation with friends should put this local favorite at the top of your dining list.
The restaurant belies its name by not featuring a heavily Spanish or Mexican influenced menu. Instead, favorites include lobster mac and cheese and bone-in filet.
3800 Hoover Road, Hamburg
7. Hooked
Locally sourced options abound in Buffalo, and Hooked is at the top of our favorites list for their commitment to locally sourced seafood, inventive cocktails and great flavor.
Favorites on this menu include the sea bass in ginger miso broth and the coconut curry mussels. If you're going all out, the blackened swordfish with gouda grits should be on your list as well.
And, when it comes to drink orders, our favorites are the Birds and the Bees (a gin and honey treatment) from the cocktail menu or, for beer lovers, the Eliot Ness, an amber lager from Great Lakes Brewing.
5195 Main Street, Williamsville, NY (inside the Wyndham Garden Hotel)
8. The Rose in the Fairmont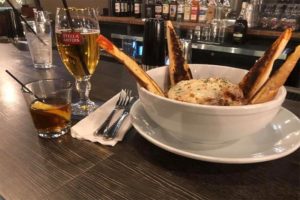 The old Fairmont Creamery is one of the loveliest examples of the renovation and repurposing currently taking place in the Buffalo area. Adding to the amenities of apartment living at the Fairmont, The Rose is giving residents and community members alike an option to come together and enjoy convenient casual options in a relaxed setting.
The menu includes comforting favorites like sliders, wings and truffle fries. Guests also rave about the signature Rose Burger, which includes a 10-ounce patty topped with caramelized onions and cheese.
199 Scott Street, Buffalo (inside The Fairmont)
9. Osteria 166
Osteria 166 is focused on providing flavorful, delicious options in a delightful atmosphere. The restaurant is beautiful and the flavor combinations are sublime.
The chefs aren't afraid to experiment with trendy options, like the fried Brussels sprouts topped with blistered tomato, Gorgonzola and fennel pollen. However, they also know how to bring the flavor with traditional favorites like The Family's Spaghetti and Meatballs smothered in "Nani's Sunday Sauce" or the braised lamb with pappardelle.
166 Franklin Street, Buffalo
osteriabuffalo.com
Food gives flavor to life. We're fortunate in Buffalo to have a wide variety of restaurants ready to add their own pinch of zest to our daily routines. Wherever you decide to dine in Buffalo, cheers!