If you think partying like it's 1999 is so yesterday, or feel a little bratty just thinking about another barbecue with beer and brats, you might need to get creative with your next party theme. Instead of sticking with the same old banquet or mixer set up, consider an option that allows you to use your creativity and get your guests talking about how unique and clever you are.
We've put together a list of fun and unconventional party themes that just might work if you're looking for something a little out of the ordinary.
Cocktail Scavenger Hunt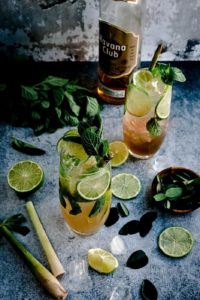 Hosting a cocktail scavenger hunt allows your guests to mix things up. Hand out recipe cards to guests with different cocktail options, then have them forage at different produce stations to find the proper ingredients.
From fruits and vegetables to mint, basil and olives, your options are endless. Expert bartenders can provide mixology tutorials, giving your guests a useful skill as well as a fun evening.
Basketball Bliss
Every basketball fan's favorite time of year is March when the NCAA tournament is on the schedule. Consider hosting a basketball themed party and serving the foods and beverages most closely associated with some of the most storied basketball schools. Decorating is easy, too, if you use our renovated classic basketball arena as the setting for your event.
Even if it's not technically tournament time, you can allow your guests to create brackets around a topic of your choosing, from best dates to dream vacation spots, then reveal the results at the end of the gathering.
On-Screen Pairings
The HBO smash hit Big Little Lies has an episode centered on an "Elvis and Audrey" party. Hosting a star-studded celebration can give your guests an opportunity to dress up in costume and to feel like true celebrities.
Incorporate a red carpet entrance; provide additional bling and accessories for guests to add to their wardrobes; and serve upscale versions of classic movie snacks and beverages. For the perfect venue utterly reminiscent of old Hollywood glamour, consider our Forbes Theatre banquet hall.
Instagram Chamber
If you have a party and nobody Instagrams it, did it really happen? With an Instagram chamber party, you won't have to worry about finding out the answer to that question.
For this party, plan to create separate "scenes" or themed areas where your guests can snap perfect pictures. From flower adorned spaces to tropical shores, each set will give your guests the opportunity to strike a pose and make a memory.
To really go all out, your cocktail and refreshment stations can carry the same themes as your Insta areas; just make sure you display your event hashtags prominently to get as much social media mileage from your event as possible.
Around the World
Theming an Around the World party around food can give you plenty of great, flavorful and fun ideas for treating your guests. Think orchids, green tea beverages and satay for an Asian-inspired area; American apple pie bites and slider burgers; and bruschetta, burrata and flowing wine for an Italian area.
With this theme, you'll want to keep your creativity tied to the food and won't need to overwhelm with decor in order to maintain elegant and tasteful styling.
Fit and Fun
Well-suited for a weekend gathering or an after-work mixer, a fit and fun celebration gives your guests a chance to come casual and leave refreshed.
Serve spa-style snacks and fruit-infused beverages and offer meditation and mini-massages as relaxing activity options. This type of event can work well when incorporated into a business meeting or executive retreat as well, with fitness activities set up in one meeting space and leadership discussions hosted in another.
Cooking demos
Putting together a cooking class can be overwhelming and can include a lot of variables. Your guests also may be more interested in socializing together than in putting all their focus on mixing and measuring.
However, a cooking demonstration can be a great way to allow guests to observe and engage, or mix and mingle. Engage chefs to create unique and interesting food items, then set up stations for observation. Some options for demos include building exotic sushi combinations or crafting complex cocktails.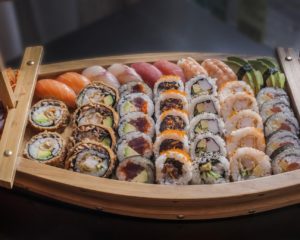 On-Screen Action
Video games aren't just for kids anymore; they're big business. And, they can be fun for party guests of all ages. Bring back some retro gaming options like Mario Kart and let your party guests compete on the big screen. Sports games and dance games can also be great for getting your guests excited and interacting.
Doughnut Delight
You've probably seen the trendy doughnut walls that have made the rounds on social media. Why not take our gathering a step farther and go with all doughnut everything?
Sweet and savory concoctions can both grace the menu, and cocktails can come tie in whimsically with the theme as well – imagine pink drinks in sprinkle-rimmed martini glasses or coffee-based blends to cut the sweetness of the most sugary concoctions.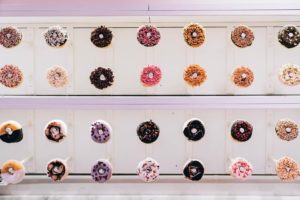 When you're ready to celebrate, thinking through a theme can be a big part of the fun. Once you've picked the perfect motif for your celebration, you can really begin to visualize the event and start planning the celebration.
If you're ready to find a space that can make your event planning dreams a reality, 500 Pearl offers a variety of event spaces that can coordinate with any theme. From an airy cocktail gathering in our rooftop bar to a wedding reception with hundreds of guests, when you come up with the theme, we'll be there to help you make the rest happen.