You need good neighbors. They're important for a few reasons if you're a business owner.
First, they help bring traffic to your area. Second, successful businesses attract additional success and clientele to a neighborhood. Third, it's just nice to have cool, unique, interesting businesses and entrepreneurs around you.
If you're a business owner, you may want to check out the buildings and neighborhoods connected with these local favorites. If you're a resident or a visitor, put these hotspots on your Buffalo to-do list!
Buffalo Cigars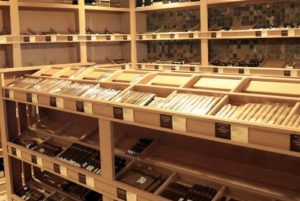 Think plush and opulent private clubs are a thing of the past? Think again.
Buffalo Cigars hosts a luxurious private club and lounge along with a retail space full of interesting and unique cigar options.
The non-profit shopping area includes an inventory of more than 50,000 cigars and a huge walk-in humidor you can explore.
A club is a true option for relaxation, with more to offer alongside its world-class cigar collection. Club guests can also enjoy the amenities of a well-stocked bar and big-screen TVs.
Neo Gift Studio
There are kinds of stores where you can browse and immerse yourself for hours, and there is the kind of stores where you can walk in and immediately find something you love. If you're lucky, you'll find a store that's both. If you're really lucky, you'll find NEO.
NEO is the go-to spot for all things witty, clever, cozy and quirky. Their carefully curated collections contain something perfect for almost any gift giving occasion – from something special for a special someone to the ideal hostess gift to the thank you item for that cool coworker who helped you out of a jam last week.
Take advantage of the store's signature gift wrapping and go ahead and splurge on those fluffy socks, scented candles, books and other one-of-a-kind finds.
JT's
Italian food is good. Italian food in a beautiful setting like Elmwood Village is great. JT's is the perfect spot to visit for an upscale, yet casual evening.
With its on-trend location (in the 905 Delaware building, along with Neo Gift Studio), JT's attracts diners in need of a fun, relaxing flavorful evening, and maybe a walkthrough Elmwood Village as a post-dinner treat.
Enjoy the wood-fired pizzas, the robust wine selection and make sure you put the burrata on your must-order list.
Ellicott Square Building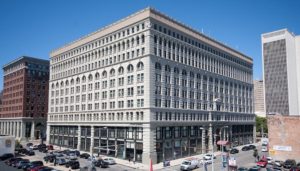 The Ellicott Square Building isn't just an architectural gem. It's often the perfect place to visit some of the city's up and coming vendors.
The Ellicott Square Building hosts pop up shopping events and artisan fairs throughout the year, with fun holiday-themed options to help you find the perfect gifts for your family's annual exchange.
And, if there's not a seasonal market on-site, the Ellicott Square Building still has some great options for dining, including The Grove (the pancakes and the chia pudding come highly recommended!).
Central Rock Gym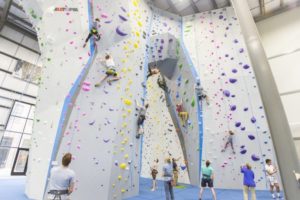 You'll feel like a rock star after a visit to Central Rock Gym – partly because of the workout, but mostly because of the staggeringly expansive rock climbing options.
You won't be able to think of a single reason to miss your workout; the gym even has workspaces with WiFi so you can check your emails or handle some business remotely before or after you climb.
For those living and working around The Cooperage, Central Rock Gym is a great way to get a workout in before or after work or during lunch.
Lockhouse Distillery
Breweries and distilleries are popping up on every corner in Buffalo. What makes Lockhouse Distillery a unique and interesting option to visit?
With a fun location in the Historic Cobblestone District, Lockwood is a great spot to bring a date or to just get together with friends. Sample the distillery's six flagship spirits (make sure you try the Award-winning cold-infused coffee liqueur).
Then, let the bar team create one of their craft cocktail offerings for you. For a drink that's a feast for the eyes and palate, order the Butterfly Effect, made with Lockhouse vodka, maraschino, blackberry, lime, and butterfly pea flower.
EVL Ink Tattoo and Apparel
If you're going to get a tattoo, get a cool one that you want to show off. EVL Ink Tattoo and Apparel specialize in creating tattoos that are works of art.
When you're exploring Ellicottville, make a visit to their beautiful studio a part of your excursion. You might just be surprised at what you come out with. And, if you're not into body art, the owner and artist-in-chief also sell prints of some of his best works.
Resurgence Brewing
Resurgence Brewing's new 30,000-square foot Chicago Street facility is beautiful and boasts expanded event space and a full bar and kitchen.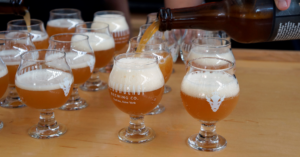 One of the coolest things about Resurgence Brewing is their commitment to experimentation and creating innovative flavor profiles. Another one of the coolest things is beer slushies.
Guests can enjoy some of the uniquely Buffalo flavors like Imperial BBA Sponge Candy Stout. Or, they can check out something completely different, like the GMP Sour, a fragrant, tropical beverage with notes of guava and pineapple.
While these businesses are some of our favorite local options, there are dozens of other great locally owned businesses all around Buffalo. If you're ready to join them with your own retail, dining or office location, check out all our commercial locations currently on offer.