When you're ready for your business to grow, it's an exciting feeling. The world is your oyster, and you can be ready to take on anything.
One of the first challenges with growth is finding a space to house your business. If you've been making do with a home office or a coworking space but are now ready to move to your own office, it can be overwhelming to start shopping for the right space, or to know what fits your needs.
We've compiled four tips to help you get the best deal when looking for office space in Buffalo.
Tip #1: Take everything into account
The lowest price isn't always the best deal. For example, some office buildings may give a sticker price that reflects one number, but then add on internet, waste management fees, parking expenses and more.
As an example, the office building at 936 Delaware includes janitorial services in its pricing, an expense which might be overlooked by most first-time office renters. Other offices may include services like shared printing or Wi-Fi options.
When you're considering an office location, be sure you ask for a full breakdown of expenses. Compare it with what you're currently paying if you're in another space or crowdsource your colleagues and friends to compare expenses if this is your first time shopping around.
Tip #2: It's not always location, location, location
While this old real estate adage – "location, location, location" – has been in use forever, the perfect office location can be a little bit subjective.
While everyone would love to be in an extremely central area, the truth is that a great location for you may depend on what you plan to do in your business. If you have a business like an accounting firm or an IT consultancy, you may not need visibility for your office because you don't expect a lot of walk-in traffic to drive your business.
A good location can also be a recruiting tool. For example, the Lawley Building is located within walking distance of court and federal buildings, which could be a convenient option for a attorney building a law practice.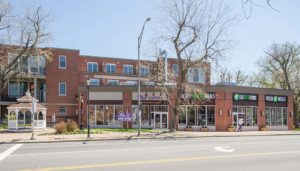 Knowing who your fellow tenants are can also help to make you make a good decision on where to locate. As an example, 1 Delaware Avenue might be appealing choice if you anticipate having a younger workforce because the site also hosts a childcare center, coffee shop and healthy lunch options.
Tip #3: Make sure you're making good use of space
If this is your first time choosing an office space, you may be at a loss regarding what you need. It can be difficult to look at a wide-open space and determine what it can be used for.
Typically, you can fit about one employee per 200 square feet of space. However, your business's style of operating may impact these measurements.
Do you plan to have an open office plan where employees sit in close quarters and collaborate? You may need a space with fewer walls in the main area and more room for small private huddles. If you have a business that relies heavily on private client meetings (such as a financial advisor), you'll want more private offices to facilitate sensitive conversations.
You may also want to consider whether any of your employees will be working remotely and whether they'll need a private desk space for days when they come into the office or whether you can just keep a pool of space available for any remote employees to use.
Making some of these decisions may seem very detailed when you're just getting started. However, if you plan for growth, you can save money when it comes to additional build outs or renovations in the future.
Tip #4: Work with a trusted landlord.
Your landlord and property management partners should be a valuable part of the equation when it comes to finding the perfect location for your office.
Reputable and well-established landlords will probably have a portfolio of office spaces available, with options to fit the needs of various businesses.
If you speak candidly with your potential landlord, they may have a perfect option available to fit your needs. And, because they're experienced in this field, they may even be able to provide you some tips on how to best utilize space or what kinds of businesses have been most successful in the space you're considering.
Whatever your business, finding the right space to work can play a significant role in your success. Look for options that fit your must-haves list (good parking, enough square footage, etc.), as well as those that offer some unique and intriguing intangibles – like having great natural light or being across the street from a well-loved local restaurant or bookshop.
Once you find the right office space, at the right price, you'll be ready and able to move your business forward.