Many people call their wedding day the best day of their lives. And, for certain, a wedding is an affair to remember. After all, you're making a commitment that you hope will last forever, and you're doing so in the company of your family and dearest friends.
You want the day to be special because it's the forerunner to everything that will come along with your marriage. We've put together a few of our favorite tips for making your wedding, and your wedding weekend, memorable.
Tip #1: Nail your Guest List Early
Before you have your heart set on a location, before you pick a specific date, the best thing you can do is put together a preliminary guest list. It doesn't have to be perfect but having an idea of who might be coming also gives you an idea of what the mood of your wedding is going to be.
Does your list mostly comprise old family friends? College buddies? Work colleagues? You can design special touches around the crowd.
For example, midnight snacks that highlight your university's signature treat would be perfect if you're reuniting with old fraternity or sorority friends. Meanwhile, the nostalgia of including photos of your parents' and grandparents' weddings is sure to produce some happy tears from your relatives and family friends.
Tip #2: Find the Perfect Venue
You may know you want to get married in your hometown, or you may have your heart set on a destination wedding. Beyond that, though, there can be many different variations on what makes the perfect location.
For example, if you want a religious ceremony to go along with your wedding reception, you may choose to have part of the wedding in your house of worship, while the after-wedding festivities are located at an off-site venue. Or, if you want to have your vows and your celebration all in one place, you may want to look very closely at the decorative details and the personality of the venue you choose.
Each venue, and each space within a venue, has its own personality. For example, at 500 Pearl, there are multiple unique spaces that are well-suited for wedding celebrations.
From the majesty of a restored theatre to the wide-open spaces of a 100-year old basketball arena, each option gives you a vastly different and special space to work with, and to bring your wedding dreams to life.
Tip #3: Let a Picture Say a Thousand Words
There's something about being able to showcase your love story, or the love stories of the other people who are near and dear to you. A video, set to music, can be extremely moving as a backdrop for your father-daughter/mother-son dance.
Or, if you're thinking pre-wedding, nothing spices up those all-in-fun celebratory toasts like pictures of the bride and groom in some of their lighter and more spontaneous moments.
Tip #4: Spa with your Dear Friends
A wedding weekend is stressful. Take a day before the festivities start and schedule some spa time with your wedding party. Everyone can benefit from massages, facials and mani/pedis, and the bonding time together is priceless.
And it's not all about the bride either. Some spas, like local Tres Aurae, offer customized packages for men, too, so everyone concerned can look and feel their best on the wedding day.
Tip #5: Create a Custom Logo
Using a custom logo on everything from your invitations to your cocktail napkins can really pull an event together.
It's a definitive way to put your mark on your event, and it's extremely Instagrammable too (if you're the kind of bride/groom who's already had your wedding hashtag picked out since your first DTR).

Tip #6: Show a Little Extra Gratitude
Weddings are expensive for everyone involved. If you're planning it, you're up to your ears in floral arrangements and seating charts. If you're attending, you're spending money on attire, travel, gifts and more.
To show how much you value the special people in your life, take a moment to give them a little pick-me-up.
It doesn't have to be expensive, but placing something small, sweet and locally sourced in their hotel rooms (we love the fun and tasty goodness of Whimsy Confections artisanal chocolate), can remind them just how special you are and how happy they are to be part of your big day.
Tip #7: Create a Signature Cocktail
If you don't have a drink of choice that you want to serve at your wedding, you may want to consider a bachelor/bachelorette outing to some of Buffalo's best food and drink hotspots. You can create some new memories and come up with a special cocktail you want to serve at your reception.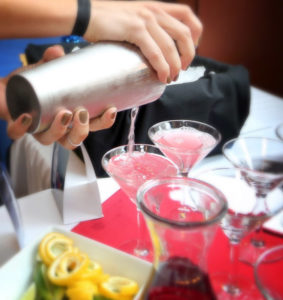 The bartenders at Osteria 166 have some great tricks up their sleeves, and you can't go wrong with a pre-wedding visit there to sample some of their carefully crafted cocktail goodness.
Tip #8: Host a Pre-Wedding Get Together
Once the wedding weekend really gets rolling, tempers can get short and patience isn't always at the top of everyone's list of virtues. What better way to remind everyone of how much you mean to one another than by hosting a pre-wedding mixer to welcome out-of-town guests?
Local hangouts like w xyz bar offer pool tables, cocktails and snacks, all of which can serve to make sure everyone's feeling comfortable, relaxing and connecting prior to the wedding weekend's hustle and bustle.
Tip #9: Speak the Language of Flowers
Your flowers give extra personality, character, and dimension to your wedding festivities. Even better, if you choose your flowers carefully, you can add some special meaning to your arrangements.
For example, in the Victorian language of flowers, stephanotis symbolizes marriage, which can make them a beautiful symbol within a wedding bouquet. On the other hand, an orange lily may be show-stopping in a fall wedding bouquet; however, it symbolizes hatred, which may not be what you want to remember about your wedding (hopefully!).
Tip #10: Plan a First Look
The wedding day is going to be busy, and while you've spent hours imagining the perfect celebration, you may not be able to truly soak it in during the ceremony.
Having a "first look," where you see your bride/groom in private prior to the vows being exchanged, gives you a chance to see each other and enjoy the venue's beauty in a more relaxed setting.
Then, during the ceremony, you can focus your full attention on the significance of the decision you're making.
Tip #11: Getaway without Having to Get Away
The old getaway car is a classic, but it's not necessarily necessary. For one thing, if you're setting a scheduled time to leave the reception, you may find that when the time comes, you're not ready and want to keep enjoying the festivities.
Staying on-site is a wonderful solution if your venue offers that option. When your venue is located as part of a hotel development, especially a beautiful new one like 500 Pearl, you can enjoy every last moment of the reception, or can easily sneak away to your room if you start feeling a bit overwhelmed.
No matter what special touches you put in place, your wedding will be special because it's all about you and the person you love. Some of these tips may help capture certain images and moments in your memory, and help you remember your happy day forever.