We spend about one-third of our lives working.
When that much of your time is dedicated to a single pursuit, it's important to make the place where you're undertaking these efforts as comfortable and pleasant as possible. If your office space is a little small or cramped, figuring how to make it feel refreshing can be a challenge.
That's why we're here to help. Whether your space is crowded, empty, awkwardly shaped or you don't have the budget to fully deck it out with designer furnishings, we've put together some tips on making the most of what you have, so you can do the most during the time you're there.
1. Map it out.
Before you move anything into your space, determine what the item's function will be. It can be useful to map out a floor plan to scale so you can have an idea of what will fit before you bring in a lot of items.
2. Go electronic.
You'll save time and money if you can keep most of your files and records stored securely in the cloud rather than requiring a physical version to be kept on your premises. By doing this, you'll avoid the expense of purchasing file cabinets and the annoyance of cramming them into a tight office space.
3. Look up.
You may have used all the floor space in your office, but can you use some of the wall space? Installing overhead storage bins, shelves or lighting can help you clear up floor space and can give you a way to highlight your office's height rather than crowding additional tables and surfaces into space.
4. Kondo everything.
Marie Kondo is famous for asking "Does it spark joy?" in relation to items her clients choose to keep in their homes. Taking a similar approach can make sense for your office space as well.
Every item in your workspace doesn't have to fill you with ecstatic joy; after all, very few of us are passionately in love with paper clips and staplers. However, every item should give you a feeling of satisfaction and the knowledge that it's in your space to fulfill a specific purpose.
5. Add interest to keep yourself inspired.
You spend a lot of time in your office. In fact, if you're an entrepreneur or a small business owner, you're probably spending more time in your office some weeks than you are in your own home.
You should have things around you that are interesting and inspiring. Don't be afraid to call attention to the unique aspects of your space as well.
A window placed high in the wall may not allow for much looking out on to the neighborhood; however, it can be a great location for a collection of succulents that add a pop of green to your space. An exposed brick wall can give your office a cool urban feel, or concrete floors can be a great option for a unique rug that adds warmth and character.
6. Choose what makes you happy.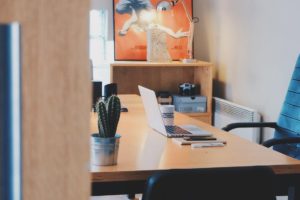 If you have a piece of artwork or a diploma or an award that makes you happy every time you look at it, it's worth it to bring it into your office space. Take time to build a vision for your space where that item fits. Just because your office is small, that doesn't mean you have to go with a minimalist aesthetic.
You should have things around you that inspire you and make you happy. Don't hesitate to bring personal items into space, but think about the best way to display them.
For example, framed photos on a desk can bring a smile to your face but can also take up a lot of usable space. Placing photos on top of overhead storage or using a clever wall display to show them off without overwhelming your space.
7. Use good lighting.
Floor lamps are bulky and will take up a lot of space, but relying on fluorescent overhead lights alone can strain your eyes and exacerbate exhaustion. If you choose to incorporate other lighting options in your office, consider wall-mounted lamps with adjustable arms or under-cabinet lights to brighten your space.
8. Multi-purpose as many items as possible.
When you bring items into your office, consider what their role will be. And, make sure to take a judicious look for ways they can become multi-purpose in nature.
For example, a bookshelf may also double as a place to store a printer, or a standing workstation if you need a respite from your desk. A chair or bench may have a hollow seat that can be used to increase your storage without adding unnecessary bulky items to the room.
9. Work with your walls.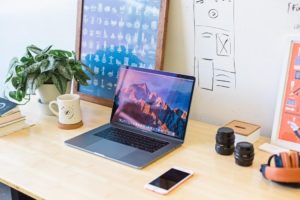 If you have the capability, whiteboard walls can give your office a sleek and modern look, while also providing plenty of room for you to write, brainstorm and track your efforts.
Even if you can't cover the whole space, strategically placed whiteboards can help you reduce clutter by eliminating the need for to do list and Post-its all over your desk and monitors.
10. Think beyond your space.
Sometimes you may not be able to secure an office space that fits your needs perfectly, but there can be other redeeming factors that make it a worthwhile place to house your business. For example, attorneys may consider an office that's near the courthouse because of the reduction in their daily back-and-forth travel, while medical professionals may prefer to the office with others in their similar fields to benefit from patient referrals.
And, the amenities around you can sometimes make up for any deficiencies in your office space. For example, outdoor garden access or an on-site coffee shop can provide a respite and can sometimes serve as an office-away-from-the-office if you need a change of pace or scenery.
Your office is more than a place of business. It's a place where you create ideas, plans, dreams, and goals. Make the most of it, and you'll feel inspired to do your best work.